Following the exciting news that Bali and Indonesia's borders have officially reopened to international tourists, this week we are bringing you the best of the best when it comes to Balinese holidays…with a nod to the many other fascinating regions of Indonesia. Think epic sunsets, majestic volcanoes, unique culture, Instagram-worthy cocktails and sun-kissed beaches!
---
Karma Royal Sanur
If you are looking for a laid-back break, look no further than Sanur, with a long promenade perfect for wandering on a warm evening, soft sandy beaches to soak up the serene atmosphere and, of course, plenty of world-class dining options.
---

Karma Royal Jimbaran
Famed for its fresh seafood, tranquil beach and picture perfect sunsets, Jimbaran Bay offers an abundance of beachfront restaurants serving delicious catch of the day served Bali style with fragrant marinades, chilli sauce and rice. An early am visit to the Kedonganan market is highly recommended – while afternoon's are best spent with a cold beer or cocktail taking in a picture-perfect Bali sunset.
---

Karma Royal Candidasa
Located just a short trip from the bustling South of the Island, Candidasa is the kind of place that makes you forget you are in a tourist destination. The sweeping views of Bali's coastline and the majestic mountains in the distance are best enjoyed at sunrise or with a cocktail by Karma Royal Candidasas' pool! Plus there's great diving and snorkelling in the vicinity.
Take advantage of our February Hot Deals and secure the best deal for your Bali adventure before the 28th of February. Each of these unique properties are available to book at 50% off the regular points or save your entitlements and book against our Preferred Member Rates to receive complimentary daily breakfast!
---

Karma Merapi
The newest of our Indonesian properties, Karma Merapi has proved popular with our Indonesian Members and we're so excited for international guests to fall in love with Jogja too. The region of Yogyakarta is oozing with culture and heritage, which is mirrored in the colonial Javanese design of Karma Merapi.
Book at 50% off the regular points, or save your entitlements and book against our Preferred Member Rates – Which includes Tax and Service!
---

Karma Salak
The fresh mountain air is calling in Bogor. It's time to dig out your walking boots and experience the sensational trekking paths surrounding Karma Salak. If a serene and quiet getaway is what you're looking for away from the busy city life; then Bogor definitely ticks all the boxes.
Stay at Karma Salak at 50% off the regular points (which includes US$50 onsite voucher AND Tax & Service), or book against our Preferred Member Rates (Which includes daily breakfast, a US$50 onsite voucher AND Tax and Service).
---
Prize winners love is in the air?
Happy Valentine's Day: Winners of our 'Love is in the air' competition!
A big thank you to everyone who entered our special Valentine's Day giveaway by sharing their favourite memories of love and #KarmaMoments with us; from a recent romantic Karma getaway…
It was a very hard choice, but the winners of a love-filled 2-night stay at any Karma Group property of their choice is:
Mr and Mrs Barot
"I have been a Member of Karma Group for over 10 years, and last year we had an extra special holiday on our wedding anniversary. It was great fun for me and my husband with marvellous hospitality – The resort sent us a bottle of wine, flowers, pastries and their good wishes. We are both senior citizens and it took us three days to eat the cake pictured! We are also celebrating our wedding anniversary this year with Karma on 17th February."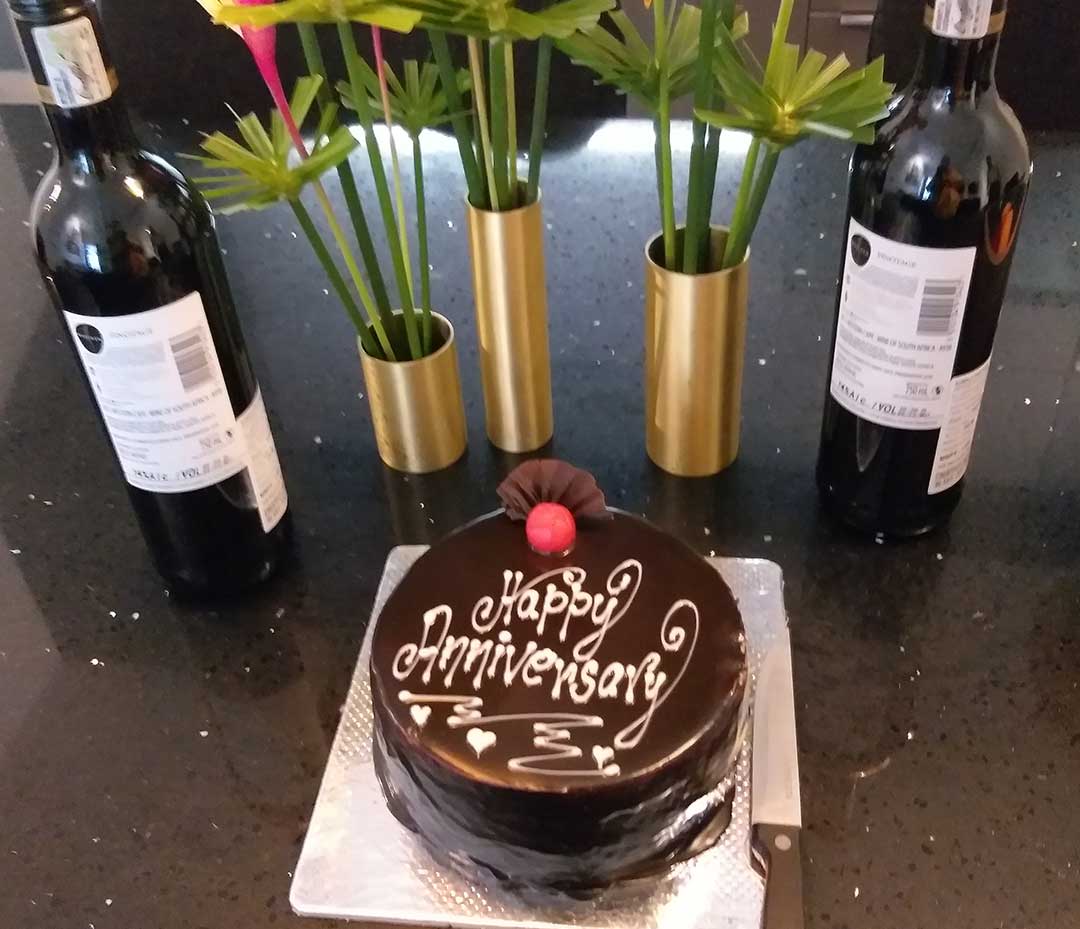 ---
Mr and Mrs Sehgal
"Our life has changed after starting our Karma Group Membership. Each of our holidays has been the most memorable trip and we shared special moments across the world, but Karma Royal Candidasa, Karma Chakra, Karma Royal Palms and Karma Haveli were the ones we will always cherish the most. Thank you Karma for making every moment at Karma Group properties so loveable".
Here are the Sehgal's wonderful photos from their romantic travels..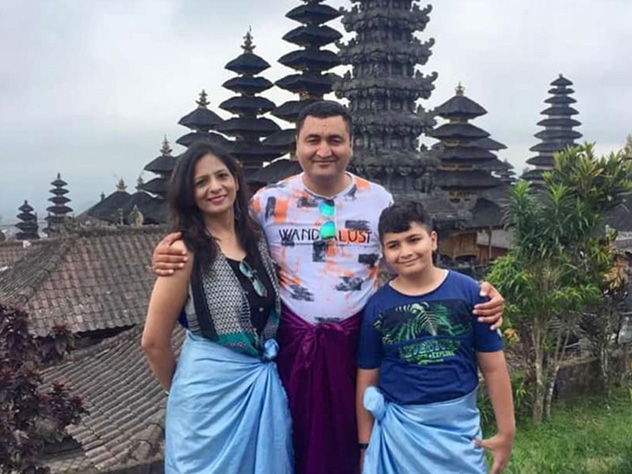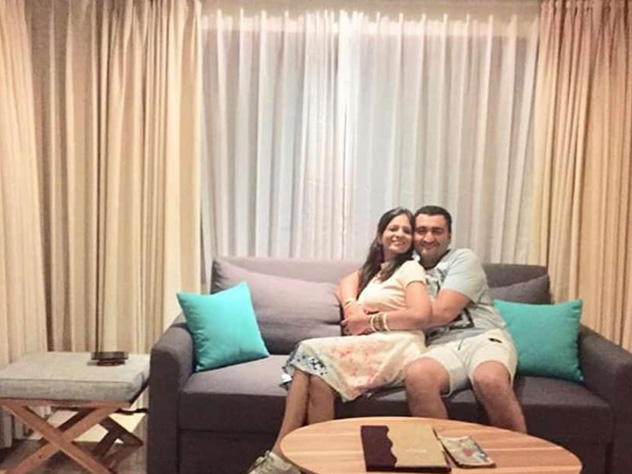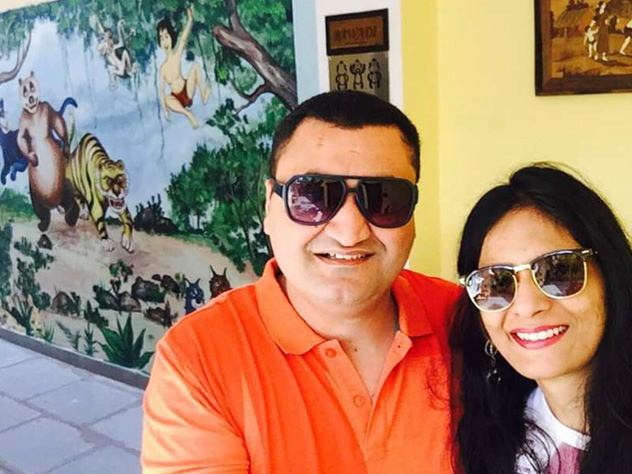 ---
Keep your eyes peeled for more giveaways and competitions coming soon!
---
Contact Karma Concierge on WhatsApp!
We are always looking for new and easy ways for our members to keep in touch with us and we are happy to announce that we are now using WhatsApp!
---
We want to make sure you get the most out of your membership no matter where you are in the world, so if you have any problems, questions, queries, or anything you would like to discuss, here are some of the ways you can contact us…
Karma Group Global Facebook : https://www.facebook.com/karmagroupglobal/
Karma Concierge Facebook : https://www.facebook.com/KarmaClubConcierge/
Karma Group Instagram : https://www.instagram.com/karma.group/
Karma Group Blog : https://karmagroup.com/blog/
---
Karma Concierge Bali
Email : karma.concierge@karmagroup.com
Phone: +62 361 762131; Toll free – Australia 1800 458 271 / New Zealand 0800 456 201 / Singapore 800 492 2389
WhatsApp: +62 81138217728
Skype: karma.concierge
Karma Concierge India
Email : karmaconcierge.india@karmagroup.com
Phone: Toll free – India 1800 209 1060 / 0832 6725200-09 / Toll free – UK +44 8001026056 / 0832 6725215 / +44 1206690005
WhatsApp: +91 7744959670
Skype: karmaconcierge.india@karmagroup.com
Karma Club Europe Concierge
Email : concierge.europe@karmaclub.com
Phone: +44 20 7097 9241
Karma Club Australia Concierge
Email : concierge.australia@karmaclub.com
Phone: +61 863 197 676
Karma Club Indonesia Concierge
Email : concierge.indonesia@karmaclub.com
Phone: +62 361 300 0055