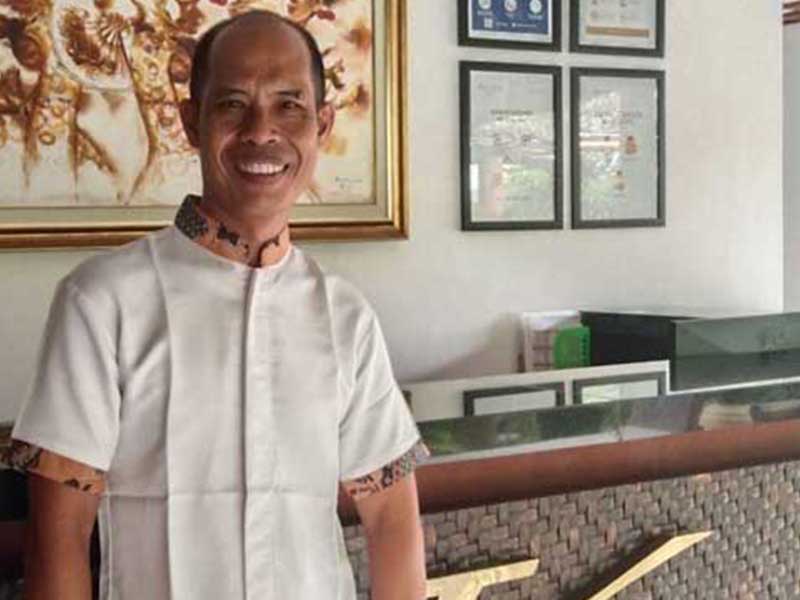 In this week's Staff Spotlight we asked the wonderful GM of Karma Royal Candidasa, Pak Sulinggih, (who we're certain many of you have had the pleasure of spending time with) to nominate one of his hard working team members to introduce themself…
He was delighted to recommend Didi Supriyadi!
---
Where are you from and how long have you worked for Karma Group?
I'm from Denpasar, I have been worked for 26 years – wow!
What's your role at Karma Group and why do like working at Karma Royal Candidasa?
I am in the accounting department, but am based at Karma Royal Candidasa. I like working at Karma Royal Candidasa because all the staff here like my second family.
Can you recommend a must-see location in Bali that our Members might not know about already?
Jasri village is just a 20 minute drive from Karma Royal Candidasa to the northeast. If you're lucky enough to be here during certain years, you can experience 'Ter-Teran' a local fire performance/ceremony with bamboo torches. It's believed that Ter-Teran can drive out evil spirits to the sea or their realm.
When you're not working, what do you love to do?
I love to do take a rest with my family at home.
If you could visit any of the Karma Group properties across the world which would it be?
Karma Bavaria in Germany – the food and snowy winter weather looks amazing.
Tell us a fun fact about yourself!
I am bald!
Which Balinese holiday is your favourite and why?
Nyepi because I can be at peace for a whole day
---
A big thank you to Pak Didi for giving us a little insight into his life! Have you had the pleasure of meeting him during one of your Karma Royal Candidasa getaways?