We are delighted to be able to welcome our Members back to Vietnam, and even more so with our newest property, Karma Song Hoai!
Interested in booking? Keep reading to find out how to submit your interest…
To get you excited and intrigued about Karma's return to Hoi An, we have compiled a list of our favourite spots to visit in this stunning UNESCO heritage listed town, with over 800 historic buildings.
---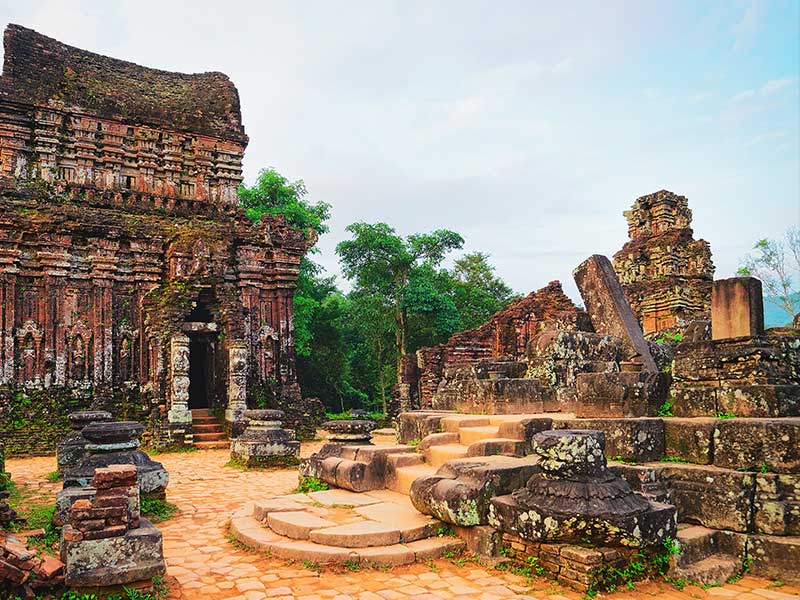 My Son Ruins
Located just outside the west of Hoi An, you'll find another UNESCO World Heritage Site 'My Son Ruins'. Consisting of a collection of incredible Hindu temples that were built from the 4th to the 13th century. A VERY long time, right? The temples were originally built by the various kings of Champa to worship the god Shiva. We recommend a bottle of water and sun hat for this exploration!
Getting there: If you're a keen driver then you can drive your hired car/scooter to the ruins. Or if you'd prefer to take it easy, our reception team can assist you in booking a local taxi for your return trip.
---
The Golden Bridge
You may have seen or heard of the Golden Bridge before, since opening it has been a huge hit with locals and tourists alike; with the surge of social media and the internet contributing to the success. After taking a cable car around the Ba Na Hills, you'll come to Sun World amusement park where the bridge is located. A huge and magnificent hand emerges from the hills "holding" up the golden coloured bridge. A fantastic photo to show your family and friends back home. (Don't forget to use #ExperienceKarma!)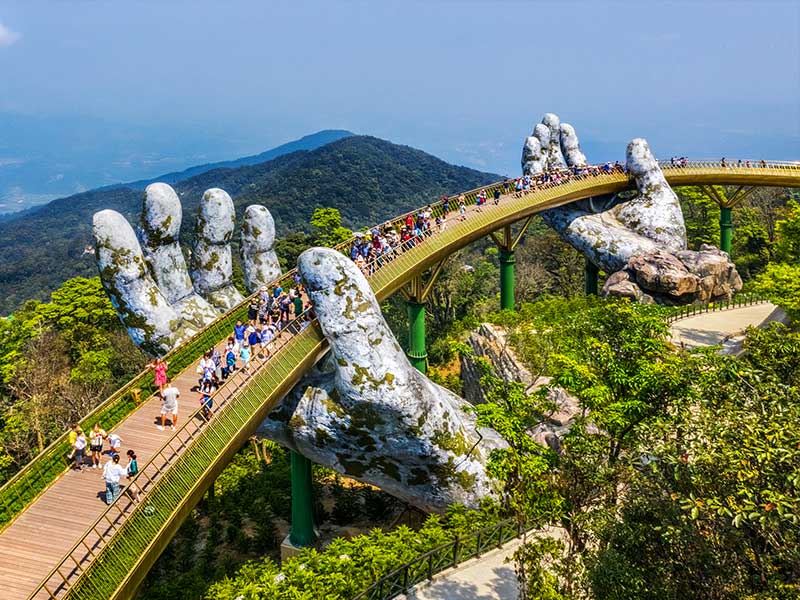 ---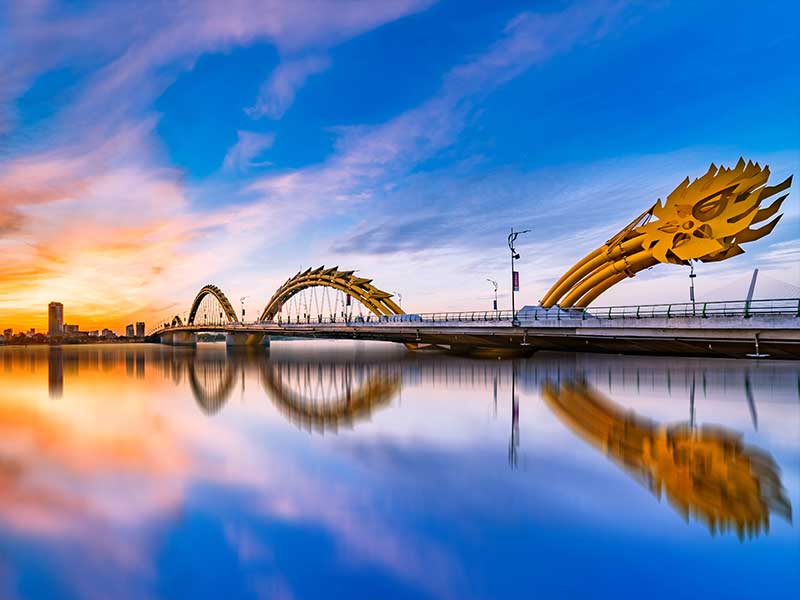 Danang
Danang is a beautiful coastal town, where you can discover glorious, white sand beaches! We recommend making Danang a day trip on the same adventure as the Golden bridge, as they're both on the same route – around an hour away from our new resort. Here you can try local craft beers and relax by the clear blue water.
---
Marble Mountains
Only 30 minutes from Karma Song Hoai are the unforgettable Marble Mountains. The mountains are made up of five separate mountains, each representing one of the elements: Thuy Son (Water), Moc Son (Wood), Hoa Son (Fire), Kim Son (Metal or Gold) and Tho Son (Earth). The mountains are packed with shrines and caves for you to enter and also were home to a hospital during the Vietnam war – incredible right?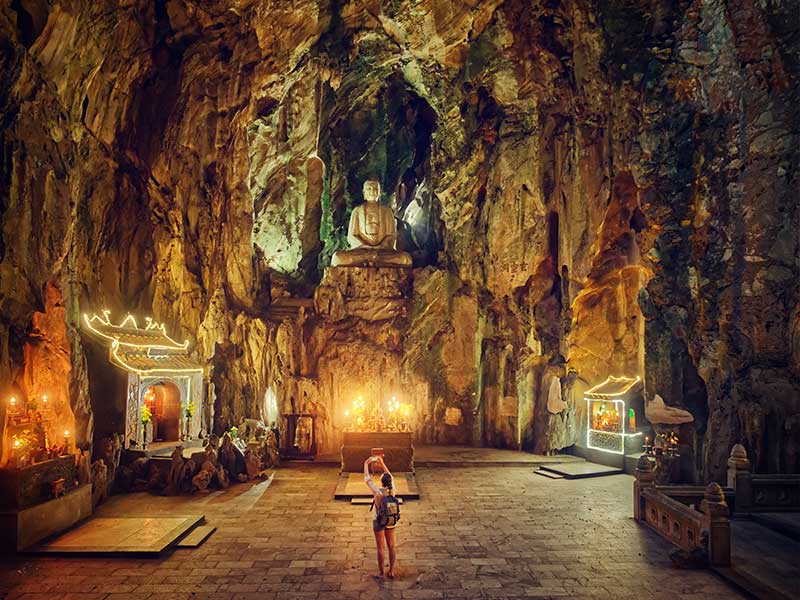 But of course, this is just a small list of the various, amazing experiences to be had in Hoi An. To name a few more recommendations briefly, we also love Hoi An Museum, lantern making classes, the Fujian Assembly Hall, Hoi An Central Market and day trips to the nearby city Da Nang.
If this all sounds very persuasive and you're itching to book your stay at Karma Song Hoai to make some unforgettable memories, please complete the form below with your submission of interest; then one of our friendly Concierge Navigators can contact you with more details when we have the much-awaited opening date.
---

Margaret River Glamping : Submit your interest
As for our members down under, we have an exciting announcement coming soon regarding our brand new Margaret River glamping resort so keep your eyes peeled!
In the meantime, if immersing yourself in nature, stargazing under the incredible WA skyline and being a stone's throw away from Australia's most spectacular vineyards sounds as incredible to you as it does to us, submit your interest now and one of our Karma Concierge Navigators will be in touch with more information soon!
---

It's Summertime in Europe : Don't Miss Out!
Just as an exciting reminder, Karma Minoan in Crete, Greece, will be re-opening its doors on 30th July! Moreso, our scenic, German resort Karma Bavaria is open and ready to welcome you back this Summer.
If you would like to make a booking, please contact your Karma Concierge servicing office as space is filling fast!
We would also like to remind all members that are due to travel, to check the latest government entrance regulations (in relation to Covid-19) for visitors to each country. Please be aware that these are regularly changing but we are doing all we can to keep our members well informed.
For the most up to date information, we recommend checking your local government website.
---
Why not check out Karma Concierge External Exchange now!
Karma Concierge External Exchange
---
Contact Karma Concierge on WhatsApp!
We are always looking for new and easy ways for our members to keep in touch with us and we are happy to announce that we are now using WhatsApp!
---
Is your birthday or anniversary coming up? We would like to celebrate together in true Karma style!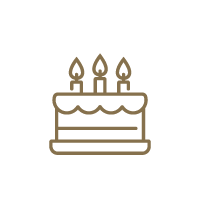 Click here to ensure that we have your important dates in our records
Of course, we always want to ensure our members receive the most up to date information from us, so we would like to invite you to check and update your contact details here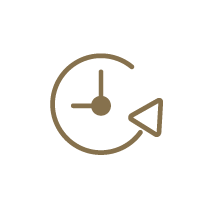 Click Here to Update your Contact Details
---
Karma Group Global Facebook : https://www.facebook.com/karmagroupglobal/
Karma Concierge Facebook : https://www.facebook.com/KarmaClubConcierge/
Karma Group Instagram : https://www.instagram.com/karma.group/
Karma Group Blog : https://karmagroup.com/blog/
---
Karma Concierge India
Email : karmaconcierge.india@karmagroup.com
Phone: Toll free – India 1800 209 1060 / 0832 6725200-09 / Toll free – UK +448000116163 / 0832 6725215 / +44 1206690005