2022 has been a year filled with innovation and improvements for Karma Group, and our Digital Team has been working hard to ensure that this is reflected across all of our online platforms, making it easier than ever to take advantage of the many benefits of being a Karma Group Member, no matter where you are in the world!
This week, we are answering your questions on all things digital. Whether it's a Hot Deal or Karma Karnak cruise, you're bound to find a resort and offer that tempts you into clicking 'Book Now'
---
1. How do I check the availability of Internal Karma Group Properties?
Firstly, you will need to log in to our dedicated Members' Lounge using your unique Member Number and Surname (If you cannot locate these details, please let our Karma Concierge team know and they would be happy to assist you.)
Then click "Search & Book" followed by "Karma Group" and select the country, your property of choice and desired dates.
Simply click and drag on the room type over your desired dates to see your booking options.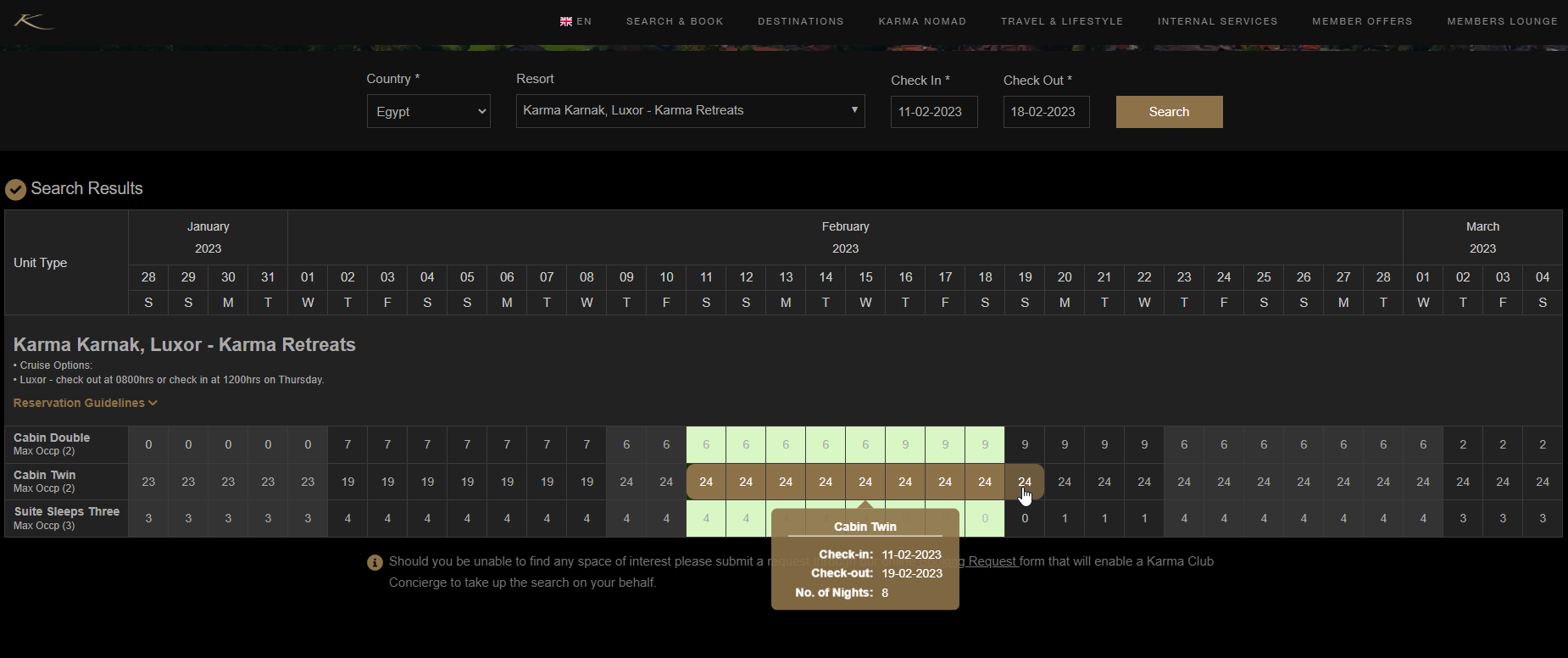 2. How do I find the latest updates on happenings in the Karmaverse?
The Karma Concierge and Karma Group India Facebook pages, as well as the Karma Group India and Karma Group Global Instagram accounts, are the central hub for our Members to keep up to date with all things Karma! To coincide with the spectacular happenings at the selected resorts, we are also running 'The 12 Days of Karma Concierge' over on our Concierge Facebook page – where throughout 12 days, from 23rd December, we will have some incredible competitions and festive-themed games to get involved with.
Be sure to check your emails every Monday for the latest Karma Community – Your weekly 'Dose of Karma' with everything that's happening in the Group; along with lots of exciting extras such as recipes, interviews, destination guides, Member testimonials and much more.
As well as our online resources, our friendly Karma Concierges are knowledgeable about all things in the Karmaverse, as well as the incredible destinations that we have available for you to explore. Please see our current contact details below and do not hesitate to reach out to us with any questions you have:
Karma Concierge Bali
KARMA CONCIERGE BALI
Jalan Raya Kuta No. 137, Kuta Bali 80361 –
Indonesia
TOLL FREE NUMBERS
Australia : 1800 316 669 | New Zealand : 0800 001016 | UK : +44 800 1026 056
---
Karma Concierge India
Karma Royal Haathi Mahal,
Cavelossim, Mobor, Salcette,
Goa 403731, India
---
Karma Concierge Europe
Level 1, Office 4 55-58 Pall Mall,
London, SW1Y 5JH
---
3. How can I update my contact information online?
The beauty of our Members' Lounge is that you can access your Membership information 24/7 and update details of both Legal Owners and Family Members stress-free, here.
Did you know that you can also check the status of your Entitlements and details of your upcoming bookings in our Members' Lounge too? Find out more.
The all-new Karma Club Electronic Member Cards are also available in the Members' Lounge and can be added to your smartphone's Apple or Google Wallet for ease of access!
If you'd like to share your special dates with us, such as anniversaries and birthdays, so that we can enhance your Membership services and experiences; please do so on the Birthday & Anniversary Form.
---
We hope this short guide has been helpful and should you wish to schedule a web orientation to go over the many wonderful features of the Karma Club website, please do let us know and we would be happy to arrange this at your earliest convenience.
---
Contact Karma Concierge on WhatsApp!
We are always looking for new and easy ways for our members to keep in touch with us and we are happy to announce that we are now using WhatsApp!
---
We want to make sure you get the most out of your membership no matter where you are in the world, so if you have any problems, questions, queries, or anything you would like to discuss, here are some of the ways you can contact us…
Karma Group Global Facebook : https://www.facebook.com/karmagroupglobal/
Karma Concierge Facebook : https://www.facebook.com/KarmaClubConcierge
Karma Group Instagram : https://www.instagram.com/karma.group/
Karma Group Blog : https://karmagroup.com/blog/
---
Karma Concierge Bali
Email : karma.concierge@karmagroup.com
Phone: +62 361 762131; Toll free – Australia 1800 316 669 / New Zealand 0800 001016 / UK +44 8001026056
WhatsApp: +62 81138217728
Skype: karma.concierge
Karma Concierge India
Email : karmaconcierge.india@karmagroup.com
Phone: Toll free – India 1800 209 1060 / 0832 6725200-09
WhatsApp: +91 7744959670
Skype: karmaconcierge.india@karmagroup.com
Karma Club Europe Concierge
Email : concierge.europe@karmaclub.com
Phone: +44 20 7097 9241
Karma Club Australia Concierge
Email : concierge.australia@karmaclub.com
Phone: +62 863 197 676
Karma Club Indonesia Concierge
Email : concierge.indonesia@karmaclub.com
Phone: +62 361 300 0055