For this week's edition, Chef Sheeshpal from Karma Sitabani resort has conjured up not one but two healthful recipes that you can easily recreate at home. The first is Phaanu, a popular daal dish from the Kumaon region that is ideal for the winter season. The second is Kandali ka Saag, a nutritious green leafy vegetable dish. Both are tailored to nourish our immunity.
---

Phaanu
This delicious Garhwali cuisine is popular for its warming creamy flavour.  Horse gram is one of the main ingredients of this dish and is considered the most protein-rich lentil. Horse gram is used to stay balanced during the cooler climates.
Method
Soak the gahat daal (horse gram) in water for 5 – 6 hours.
Wash the daal thoroughly in running water to clean the husk.
Grind the cleaned daal into a thick, dry paste in a mixer with green chillies, garlic and ginger.
Add water to the paste.
Heat oil in a pan and add jakhiya seeds and hing.
When the seeds begin to sputter add the gram paste, turmeric powder, dry coriander powder and salt.
Cover and cook for about 10 minutes on slow fire. Continue to simmer for another 10 minutes. The gravy should have pouring consistency. If it is too thick, add some more water and continue boiling.
Garnish with pure ghee and chopped coriander leaves.
Serve with steamed rice.
---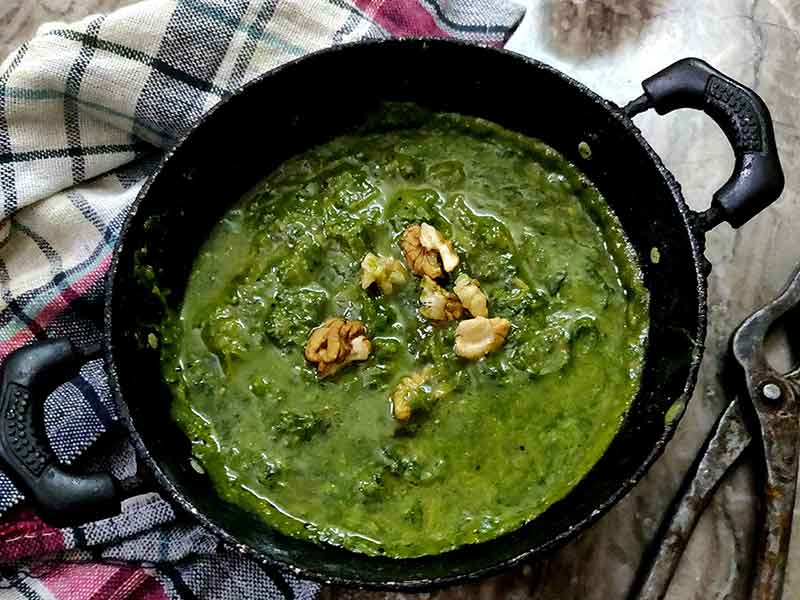 Kandali ka Saag
The powerhouse ingredient of this dish derived from the hilly region of Garhwal is the leaf of Kandali. Also known as Stinging Nettle, Kandali is considered highly nutritious, low in fat and high in protein. Want to know the best part? It's easily available and easily digestible – a win-win!
Method
Carefully pick the leaves and stems of the stinging nettle.
Boil the leaves and stem in water for 5 minutes to dilute acidity.
Soak the rice for 30 mins.
Drain excess water, chop the leaves roughly and blend in a mixer. Take care not to blend the mix too fine.
Add soaked rice to the mix and blend. Kandali leaves can cause excessive heat in the body. Adding rice to the mix neutralises the heat.
Pour oil in an iron wok. Add jakhiya or cumin seeds. When the seeds begin to sputter add dried red chilies.
Add the kandali leaves and rice paste to the wok and let it cook for 5-6 minutes till the excess water dries.
Best served with hot rice/chapati.