What happens when a German from the North relocates to the Bavarian Alps? Meet Karma Bavaria's new Head Chef, Bjorn Brinkmeier, who shares the joys of creating simple, authentic, and regional gastronomy from locally sourced ingredients. The son of a food journalist, Bjorn developed his passion for creative cuisine at a young age. From foraging spruce tips for salads and syrups to samphire, seaweed and classic Bavarian comforts, discover Bjorn's thrilling new menu at Karmasee…
---
What are you cooking today?
Today I am cooking sweet potato cream soup with crème fraiche and chili prawns on black pepper from the mill.
Where do you think your passion for food comes from?
My father was my inspiration. He was a food journalist and taught me all about fresh ingredients. I fell in love with food early on and haven't looked back.
Describe your journey so far?
It all started for me on the North Sea island of Amrum at the 'Seeblick Genuss and Spa Resort Amrum' as an apprentice, From here I worked in the 'Seehotel Töpferhaus', a gourmet restaurant in Alt Duvenstedt (Schleswig – Holstein), where I learned about French and classic cuisine. Over the last twenty years, I worked in F&B management for the 5-star 'Hilton Vienna Plaza Hotel', as well as in Düsseldorf, Cologne, the South Sauerland and top restaurants in Flensburg. I also completed my masters degree? in business and economics.
What brought you to the Bavarian mountains?
As a German from the north who has lived in the north and Baltic Seas, My childhood was camping, swimming and all things close to nature and outdoors. I fell in love with this region immediately. The lake, mountains, and fresh Alpine air offer a fantastic way of life.
What's your vision for Karmasee Restaurant?
We're focusing on authentic and regional German cuisine. In our kitchen, we put great importance to the locality and freshness of the ingredients, full taste and authentic preparation. For instance, our apple strudel is made with locally grown apples which taste wow! Our menu is a light and fresh interpretation of authentic German cuisine.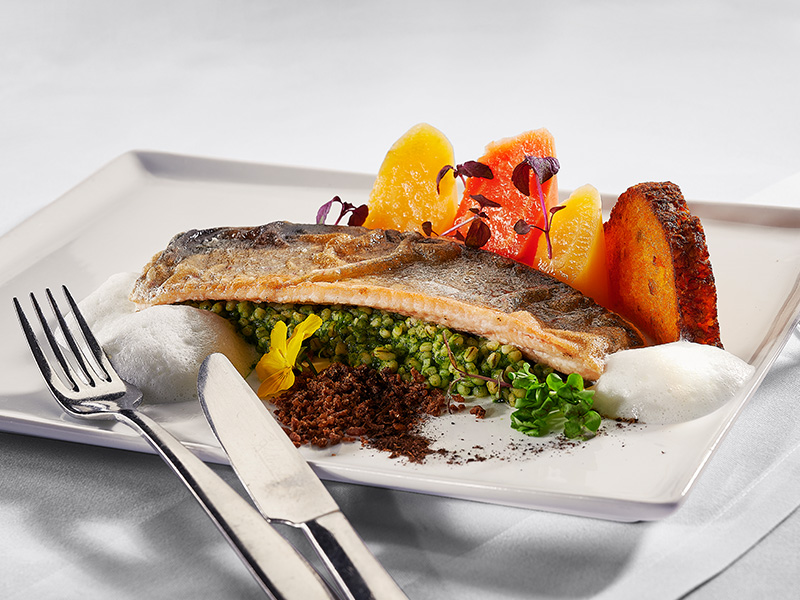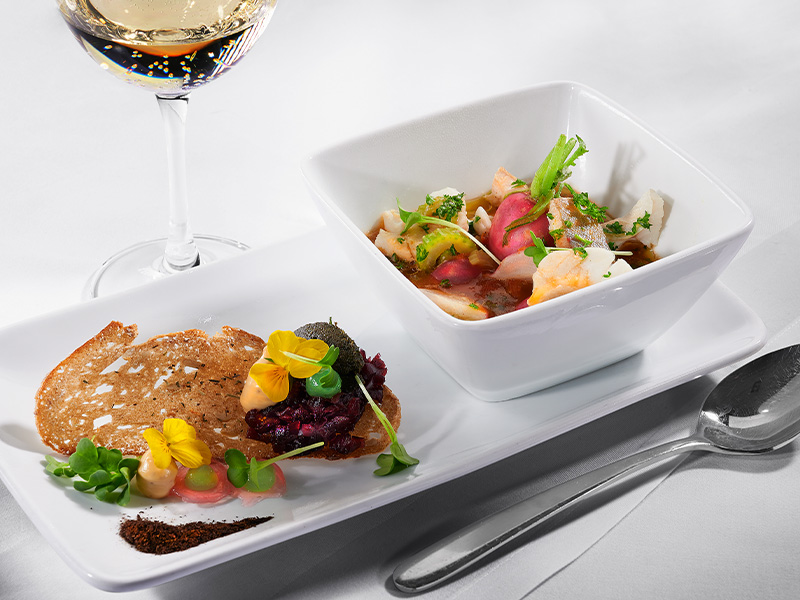 What are some of your favourite ingredients to work with?
I love to work with beetroot and onions in all ways such as experimenting with drying and pickling them. I'm enjoying foraging local samphire seaweed and spruce tree tips for adding to salads or creating them into a syrup or liquor.
Any regional ingredients you are experimenting with right now?
We have sourced a new fish supplier in Schliersee village who can produce the freshest and highest quality fish in the Bavarian region. I am also enjoying working with rose petals, sunflower seeds, elderflower, wild garlic and daisies – all of which can be foraged locally
What are three new dishes we can look forward to sampling?
Avocado tartare with sweet potato puree & goats' cheese
Oxtail carpaccio with fried Mushrooms, vinaigrette, horseradish & beetroot Fillet of pork with sautéed Brussell sprouts leaves, bacon & potato dumplings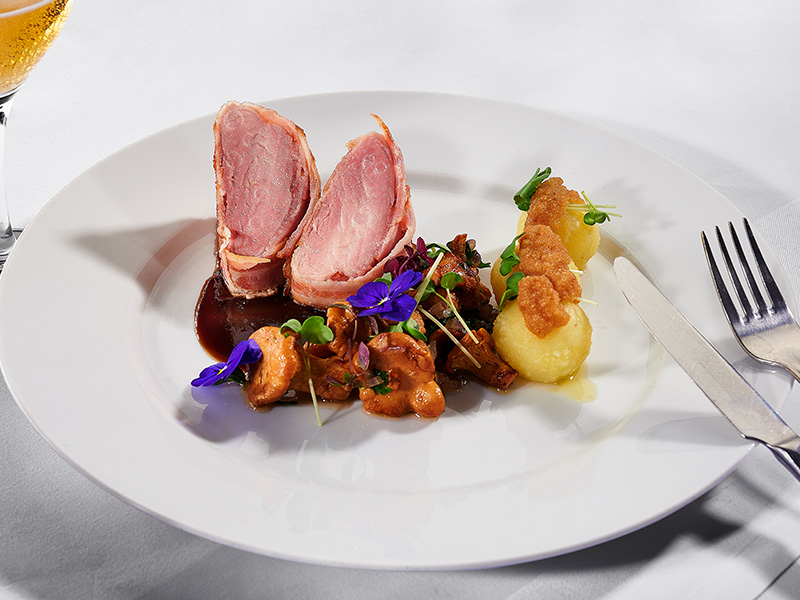 Sounds delicious. What do you do in your downtime?
I love to spend time with my family and we are all looking forward to exploring Schliersee in the summer.
Enjoy – thanks Bjorn for sharing your story and passions…