Meet the man holding the culinary reins at Karma Lake of Menteith: Head Chef Jamie Crombie has worked at renowned country eateries across Scotland, achieving AA Rosette Award status along the way and learning his craft from some top names. Today, he's a highly accomplished Chef de Cuisine turning out delicious dishes based on farm to table produce and meats as well as fresh catch from North and Atlantic Oceans… Here he is in his own words, as well as sharing the first of four personal favourite recipes.
---
Full Name. How long at which Karma Group resort?
My name is Jamie Crombie, I've been with Karma Lake of Menteith for just over a month, although I've been at the Lake of Menteith Hotel for about 8 years now. I kind of fell into hospitality getting a summer job as a kitchen porter after leaving school. I went on to college to study interior design, but always had a part-time job in the kitchen at the same time. By the time I'd finished my college course, I was in charge of my own section in the kitchen and was offered a full-time job. I've travelled all over Scotland ever since, working in mainly small country house hotels and as an agency chef, gaining experience from some great chefs along the way and working up to rosette level. Since arriving at the Lake Hotel we've picked up numerous awards including small country hotel of the year 3 times, romantic hotel of the year and lochside hotel of the year at the Scottish Hotel Awards. Whilst also receiving numerous other accolades for dining experience and food provenance.
What's the most challenging dish you have ever had to create?
My earliest memory of cooking, would probably be baking with my mum at home or going to visit my grandfather working in the local bakery. We were quite well-travelled as children and my dad is an accomplished cook and would always be experimenting in the kitchen with different flavours, so some of that must have rubbed off on me. But it wasn't until I got my first job in a kitchen that I even considered becoming a chef.
What ingredients do you like to grow in yours (or resort) garden?
My garden at home is normally full or fruit and veg summer, in fact there's not much else in it apart from a few pots of flowers, a bbq and pizza oven. I like to grow anything that is low maintenance. I've got a small greenhouse so my dad normally does the hard work and brings stuff on in the spring. The greenhouse is normally full of tomatoes and courgettes. I've normal got lots of potato sacks planted at different times of year, beds full of veg like radish and carrots, climbers like peas and beans along all the fences, as well as patches of herbs, wild garlic and rhubarb. Although my main crop is normally strawberries, Scotland produces some of, if not the best berries in the world and the local climate is perfect for them and I've had a bumper crop every year. A lot of the produce ends up in the hotel kitchen as it's just too much for us to use at home.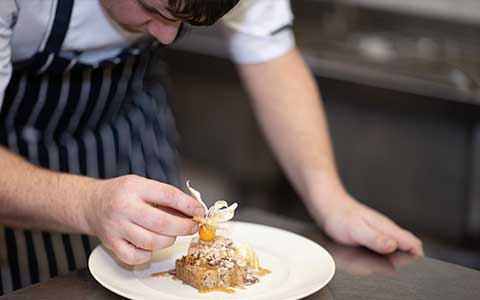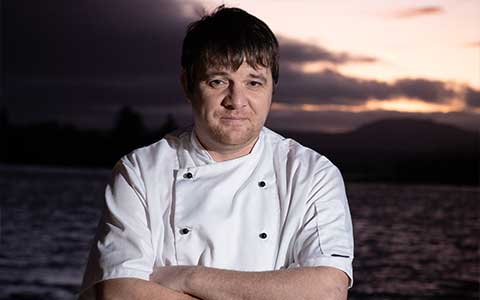 Any local farmers markets nearby the resort? What is the speciality of the region?
Scotland is just a chef's paradise when it comes to local produce, with the Atlantic Ocean and North Sea on our doorstep for fresh fish and seafood, rivers and lochs full of trout and salmon, lush rolling hills perfect for grazing
beef and lamb, fertile soil perfect for growing the best soft fruit in the world.
Here at the Karma Lake of Menteith we're right in the middle of it all. Perthshire is renowned for the quality of its lamb and game. There's also lots of local farm shops, artisan dairies and bakeries nearby.
Knockraich farm shop in Fintry (20 min drive) is worth a visit, they have their own dairy on site producing the best of quality Kate Rodgers yoghurt, crème fraiche, crowdie and ice-cream, they also have their own orchard which produces some great jams and preserves, as well a nice café on site.
The best local market is probably at Loch Lomond Shores (30 min drive), it's held every on the first and third Sunday of the month in the winter and weekly during the summer. It offers a great variety of local artisan produce
and crafts and is bustling with street food stalls.
As well as the haggis, shortbread, salmon, whisky and Angus beef. Keep an eye out for traditional Scottish delicacies like Cullen skink, Stovies, Arbroath smokies, Stornoway black pudding, Scotch pie, Irn-bru, Lorne
(square) sausage, tablet and butteries (rowies).
What's your favourite breakfast or brunch dish?
My favourite breakfast or brunch is a smoked salmon and scrambled egg, nice creamy scrambled egg cooked to perfection with the salty smokiness of the salmon, a perfect combination and simple.
Fav sunset beverage?
Can only be one answer here Deanston Malt. I was born and bred in the village and I'm back living there now. I walked the corridors of the distillery as child behind my grandfather who was manager at the time. I can't think
of anything better than drinking a wee dram from a bottle that he made watching the sun go down.
What's the most overrated ingredient or dish in your mind?
Fillet steak why pay so much for a steak you really need to serve a sauce with for flavour? Ribeye is a far better cut for me it's got that fat in the middle and it creates a much more intense beef flavour. Or cheaper still a nice piece of bavette steak cooked medium rare over the chargrill would give you more flavour.
What are your top 3 foodie destinations and why?
St Andrews and East Neuk of Fife – the Fife coast has it all, whether it Michelin star restaurants or award winning chip shops. The area is only about 30 miles squared and made up of some of the most picturesque fishing villages in the country. But it offers so much more, with artisan dairies, butchers, farm shops, markets and micro-breweries. St Andrews its self is worth a visit just for an ice-cream at either Luvian's or Jannetta's, and is filled with some great restaurants. There's great places to eat right along the costal route whether it's the Michelin starred Peat Inn just outside St Andrews, The Lobster Shack, Crail (it is a shack so don't expect a seat) or The Famous Anstruther Fish Bar just to name a few. But the real jewel on the crown is The Cellar, Anstruther run by local lad and Michelin starred
Chef Billy Boyter his seasonal taster menu uses the best of the local sourced ingredients cooked to perfection.
Restaurant Andrew Fairlie, Gleneagles, Perthshire – Named after the late great chef himself, the restaurant has been left in the good hands of Chef Stephen McLaughlin and is still the only two Michelin starred restaurant in
Scotland. The restaurants signature dish of smoked lobster is worth the visit alone, slowly smoked over whisky barrel chips and served with lime and herb butter, just wow!
Barcelona, Spain – An absolute beautiful city steeped in history with the wonderful architecture of Antoni Gaudi scattered all over, with no fewer than 24 Michelin starred restaurants in the city you're spoilt for choice, but it's the small tapas bars that are my favourite. La Rambla the most famous street in the city is well worth a visit. The entrance to La Boqueria Market (one of Europe's largest food markets) lies right in the middle. This place has everything you can imagine and the vibrancy of the place is something to behold. The market is filled with small tapas bars and restaurants throughout and you won't get much fresher than this.
Any mentors?
Andrew Fairlie – The man just oozed class! A true inspiration to a whole generation. I was lucky enough to meet him a good few times over the years and he was always so helpful, humble and humorous. His attention to detail and passion for local ingredients was second to none. Sadly Andrew lost his battle cancer in 2019 and has been a huge loss to the hospitality industry in Scotland.
Ruaraidh Johnston – My first head chef, another sadly no longer with us after losing him in a tragic motor accident almost 14 years ago now. His motto was to work hard and party harder! A prestigious chef by no means, but he gave me the basics and gave me the confidence to go on to better things, for that I will always be grateful. A true legend in my eyes.
Describe the best dessert you've ever had…
I'm easy pleased, homemade sticky toffee pudding with a scoop of vanilla ice-cream or anything with banana and toffee is just amazing!
What's on the menu for this year at the resort? Any local and seasonal ingredients you are experimenting we need to know about?
It's all about comfort food at the moment, classics like a heart bowl of Cullen Skink or Sticky Toffee Pudding. We have a dish on at the moment using venison from Rednock Estate which is just a mile down the road, so you don't get much more local than that. When spring time comes we'll be looking to do something with the incredible local lamb, foraged wild garlic and girolle mushrooms, a bit later on we'll have the first of the local strawberries and hopefully a few things from the garden.
What has been the most popular dish at the restaurant this year?
The Lake of Menteith trout is always popular, fished right on our doorstep you can watch them being caught from the restaurant. We normal have it on as special when available just simply pan-roasted with mashed potatoes, steamed vegetables and a beurre blanc.
---
Cullen Skink Recipe
Cullen skink, one of Scotland's most famous dishes. It's a thick Scottish soup made of smoked haddock, potatoes and onions and leek. An authentic Cullen skink will use Finnan Haddie, but it may be prepared with any other undyed smoked haddock. This soup is a local speciality, from the town of Cullen in Moray, on the northeast coast of Scotland. Skink is the Scottish term for a knuckle, shin, or hough of beef, so most soups made of these parts were called skink.