Meet Chef Nektaria of Karma Minoan in Crete.
Born and raised in the nearby town of Agios Nikolaos to a sea captain father and a mother who took care of the family estate. Since early childhood, Nektaria has been involved in the process of growing and harvesting olive trees, growing grapes and making Greek house wine and raki. We have been fortunate to have Nektaria with us since Karma Minoan opened its doors in 2018.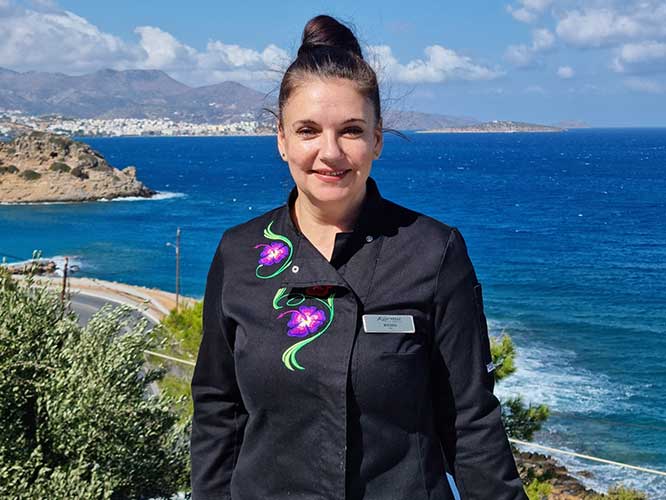 ---
How was 2020 for you? Any unexpected silver linings?
Karma Minoan was closed for most of 2020 but I continued to develop my professional skills in a local family bakery where I learned the elaborate process of baking different kinds of bread and pastries. I also did online culinary courses in both European and Greek cuisine at The Kapodistriako University of Athens. I made the most of time warming the bellies of friends and family with mouthwatering casserole dishes such as my popular Beef Stifado made with caramelized baby onions, virgin olive oil, cinnamon, bay leaves and black pepper.
What are some of the popular healthy Greek dishes?
Greece is famous for its fresh vegetables and fruits which makes it easy to prepare light and "ladera" dishes featuring virgin olive oil, herbs and vegetables. Two popular traditional dishes include Gemista (tomatoes, zucchinis, bell peppers stuffed with rice, mint, oregano and parsley and baked in the oven), and Dolmades that are made from wine leaves or zucchini flowers stuffed with rice and herbs cooked in tomato juice and olive oil in the casserole.
Any ingredient trends we need to know about?
The latest trend in Crete is cooking Skiufixta. This is done the following way: first you boil lamb or goat meat after which you use the juice and pour this into freshly prepared home-made pasta. Finally, you mix the pasta and meat with cottage cheese and with black pepper. So tasty!
Any Greek food trends for 2021-2022?
Here on the beautiful island of Crete, the most 'trending' dish will always feature seafood such as Sea Bass, Goatfish (Red Mullet), Sea Bream and Calamari and Octopus. Also popular are dishes created with lamb and goat meat like Kleftiko, Stifado and grilled lamb chops. As well, vegetable-based dishes such as Gemistes Piperies (stuffed peppers with three different Cretan cheeses, garlic, olive oil, mint, fresh tomato and black pepper) and Fava (split peas), Tzatziki (yogurt with garlic, cucumber, vinegar, oil, black pepper) and Tirokafteri (feta cheese, oven baked red peppers, chili peppers, olive oil, salt and pepper).
Sounds soooooo good! Are you experimenting with any other ingredients this season?
I am continually experimenting with many ingredients, from common ones to playing with combinations of ingredients that reflect current food trends. My favorite dish at the moment is Beef Stifado – it's based on a very traditional recipe and will never go out of style!
Thank you Chef Nektaria – we all can't wait to return to Karma Minoan and enjoy your delicious Cretan creations!
---

Beef Stifado