To celebrate the reopening of Karma Royal Haathi Mahal, our F&B team shares favourite beverage recipes to kick-start your day. These Indian-inspired powerhouse drinks are packed with homegrown spices and herbs known to boost the immune system. From a vegan tonic to a summer smoothie and the classical 'Masala Chai Hot Toddy', here are 3 easy-to-create drinks to keep you healthy and hydrated.
---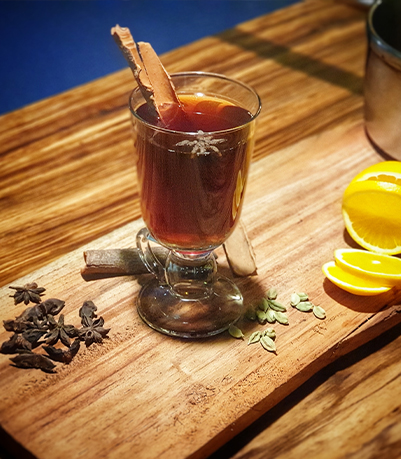 No Booze Masala Chai Hot Toddy
Ingredients
10 grams Assam Tea Powder
10 grams Cardamom
10 grams Star Anise
15 grams of Cinnamon Bark
Brown sugar to taste
400ml water
200ml Orange Juice
200ml Cranberry Juice
Method
Brew the tea and spices, simmer for 6-7 minutes on medium heat, remove from heat, add orange juice, sugar and cranberry juice, stir well and serve.
---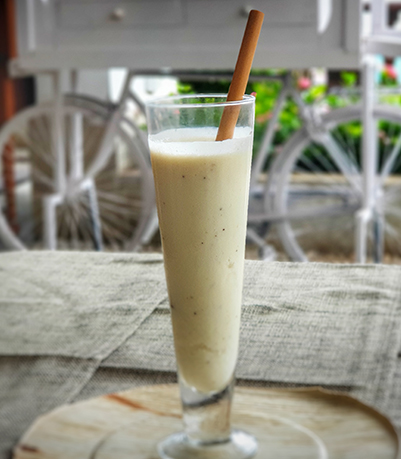 Tender Coconut Bana-Colada
Ingredients
100 grams of frozen peeled bananas
100 grams of frozen chopped pineapple
150 grams of fresh tender coconut flesh
50ml coconut milk
4 ice cubes
Method
Combine all ingredients in a blender, pour in a tall glass and garnish with thin lime slice and toasted coconut.
---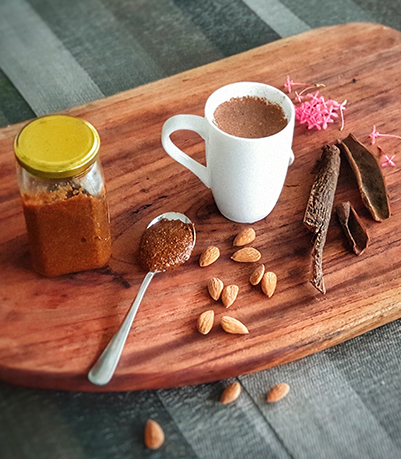 Vegan Immunity Booster
Ingredients
10 grams Homemade Vegan Chyawanprash (Indian Gooseberry Jam)
200ml Almond Milk
5 grams of Almond Butter
5ml maple syrup
For a Jar of Vegan Goosberry Jam :
300 grams Indian Gooseberry
350 grams Organic Jaggery
150ml Olive Oil
The below-mentioned ingredients must be in the powdered form :
Cardamom-10 gm.
Triphala-6 gm
Sandalwood-5 gm
Long Pepper-5 gm
Ginger, dry- 5 gm
Dashmool- 5 gm
Nutmeg- 02 gm
Cloves-02 gm
Chinese Cinnamon- 02 gm
Pepper-02 gm
Method
Mix all the powders in a glass bowl and set aside.
Wash the Indian Gooseberry and pat dry it completely.
Prick them with a fork.
Cook the gooseberries in the water on high heat until soft
De-seed them and prepare a very smooth paste. Set aside.
In a heavy-bottomed pan / non-stick pan add olive oil and jaggery.
Add the Indian gooseberry paste and cook on a slow flame, till all the moisture in the mixture evaporates. Add the mixed powders to it. Mix well.
Switch off the flame and let the mixture cool completely
Transfer the prepared mixture in a sterilized and dry glass bottle.
For Immunity Booster :
Combine Almond Milk, Gooseberry Jam, Maple Syrup and Almond Butter in a saucepan, heat on stove over medium heat until warm. Serve in a mug and dust with cinnamon powder.