Following last week's feature on Phuket, this edition we're focusing on its stylish neighbour Koh Samui – for many the quintessential tropical island experience – and now, after a hiatus, very much back on our travel radar!
Situated in the Gulf of Thailand and surrounded by the crystal waters of the South China Sea, Koh Samui has evolved from a backpacker favourite in the seventies into a barefoot luxury destination that's as laid back as it is upmarket.
With a population of just over 62,000, Samui is quieter than its neighbour Phuket, though it offers a wealth of diversions for visitors – from palm-fringed beaches, gilded Buddhist temples, sophisticated boutiques & bars to a marine reserve filled with stunning karsts and coral gardens brimming with sea life. 
---
The island's main settlements include Nathon, a harbour town that boasts a wealth of boutiques and eating options from street food to fine dining. It's also the departure and arrival point for boats from the mainland. The other major town, Chaweng, is a hotspot for bars and discotheques.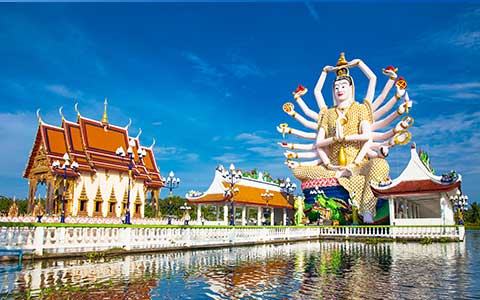 ---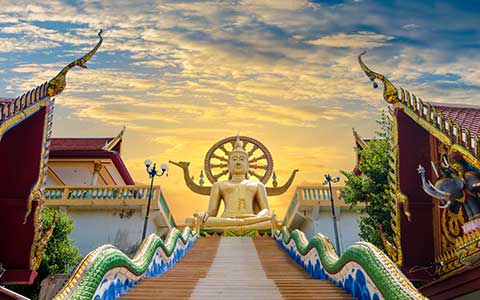 While there are many Wat or temples in Koh Samui, the most impressive is Wat Phra Yai, which features a Buddhist statue standing more than 12 metres high. Built back in 1972, it is located on a small islet connected to Koh Samui by a bridge and is an important place of worship for locals.   
---
Beach lovers are spoiled for choice in Koh Samui. While the seven kilometre-long Chaweng beach and slightly smaller and quieter Lamai are the most popular and developed, Mae Nam, Big Buddha and BoPhut in the north offer many quieter stretches of sand. In the northeast, the small but perfectly formed Cherng Mon beach is a must-visit during your time in Koh Samui.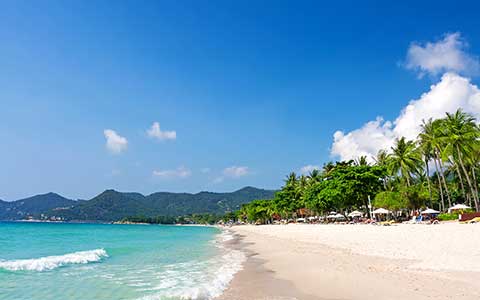 ---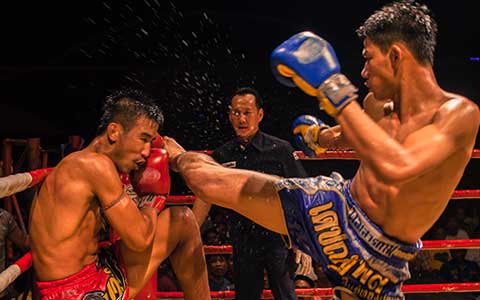 Muay Thai or Thai Kickboxing is pretty much ubiquitous in Thailand and Samui is no exception. It is well worth heading to the Lamai Stadium to watch tournaments, not only for the combat sport but to get up close and personal with one of the most popular aspects of Thai culture. Smaller-scale matchups take place in the bar district of Chaweng. 
---
It is well worth exploring the archipelago of 62 islands of which Koh Samui is a part – whether on a boat tour taking in the legendary Phang Nga Bay, with its jungle-clad limestone monoliths, including the much-photographed James Bond Island, or heading beneath the surface on a snorkel or dive safari to check out the vivid coral reefs teeming with tropical fish (for more on that, check out last week's Phuket feature)!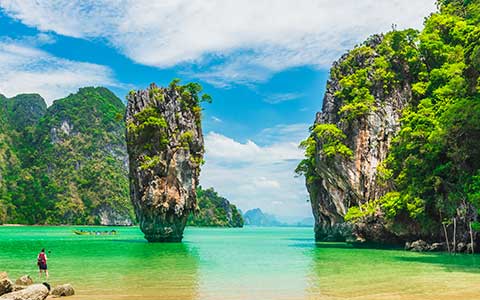 Check out our special offer at Karma Apsara in our Member's Corner.