Karma Kandara's Executive Chef, Joseph Antonishek, has carved out an exciting and enviable career so far. As well as working in some of the most iconic establishments, he is an alumnus of the legendary Culinary Institute of America and honored as one of the best hotel chefs in America by The James Beard Foundation.

Chef Joseph is also known for his imaginative culinary creativity and passion for Indonesian cuisine – which is so good that he recently picked up an award for 'the most most interesting tasting menu by 'Now! Bali magazine'. We chat to award-winning Chef Joseph about his culinary journey so far…
---
Cooking Style in three words?
Clean, fresh, innovative.
We have to ask. What made you want to become a chef?
Thousand Island Salad Dressing. We had a summer cottage in Canada and my grandmother had asked me what kind of salad dressing I wanted for dinner. I answered T.I. but we were out. My grandmother offered Blue Cheese, however my grandfather got up from the table and mixed mayo, ketchup and pickle relish together. I was amazed at how blending three simple ingredients could create something so unique on its own. It was like magic and from that point on I was hooked.
How has 'lockdown' been for you? Any silver linings?
The lockdown has been bittersweet to say the least. However, I valued the quality time spent with family and continued to cook daily whether it was simple breakfasts or classic french dishes for dinner. I enjoyed creating recipes for our EDM submissions, it kept the creativity flowing! The hardest part was missing my team and the fun we have on a daily basis! Even though we are currently operating on a limited staff it's like "getting the band back together again!" Look forward to enjoying some new hits coming out of the kitchen!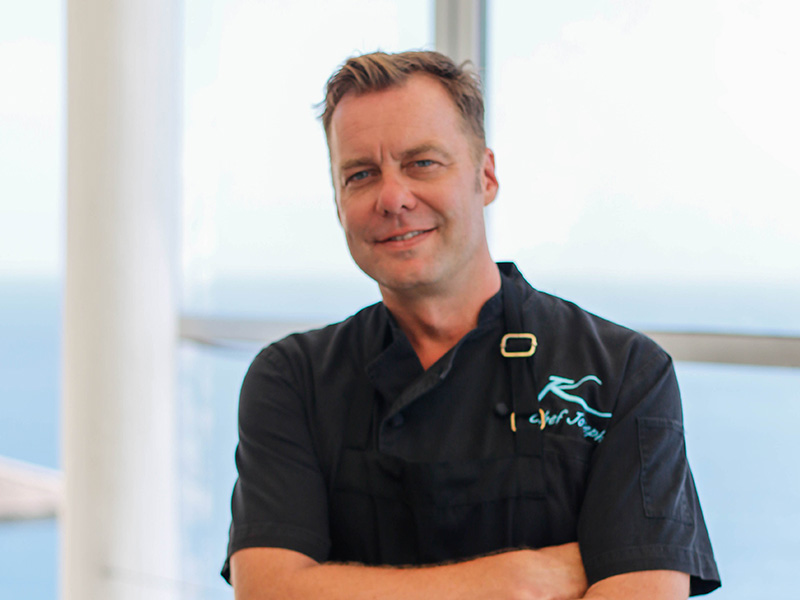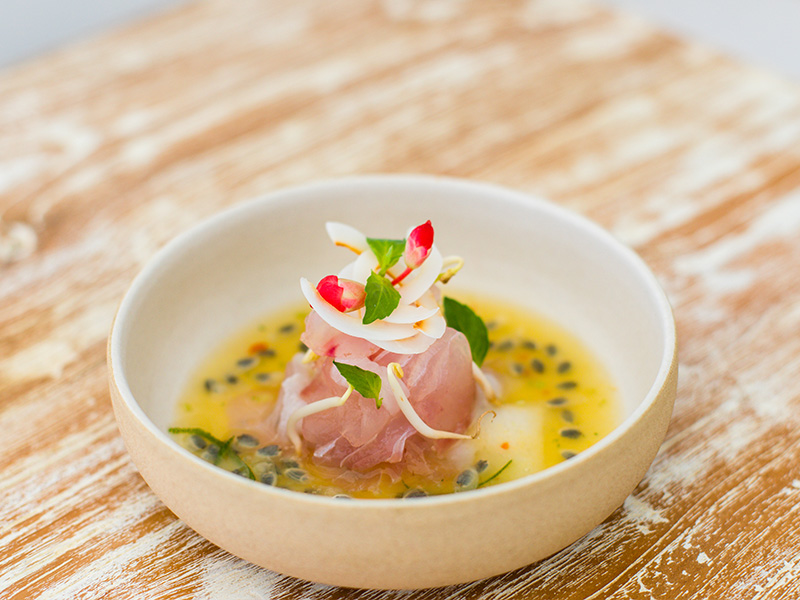 Your current food obsession?
Right now, due to the market being locally focused, I have been diving deep into the various differences of Indonesian cuisines. One of my favorite dishes is Tongseng Kambing (Goat stew). It's a Javanese dish that is very different when made in Solo or Surabaya. I prefer the Solo version as it's a little thicker and stronger in bumbu spices.
Any new recipes we need to know about?
Currently I am working on our New Year's Eve Gala Dinner in which we will be utilising local ingredients in a modern fashion… ok, a little bit of a tease but I'm not willing to ruin the surprise by saying too much!
What makes a perfect meal?
Whomever you are sharing it with! My Javanese girlfriend and I have dined in most of the best restaurants in Bali. We have had amazing experiences at all of them. She has also turned me on to roadside warungs, street food and off the grid places where the flavors of the local regional cuisines have been inspiring and influencing my own cuisine.

Molecular or Farm to Table?
Neither. We take the simplicity of farm to table and a local approach and enhance it with basic molecular techniques, but don't get too crazy with it. We use soy lecithin and agar-agar, an ingredient that has been used in Indoneisan cuisine since time immemorial. We use the freshest ingredients at the height of their flavor. There is no reason to stray too far from what's already so perfect.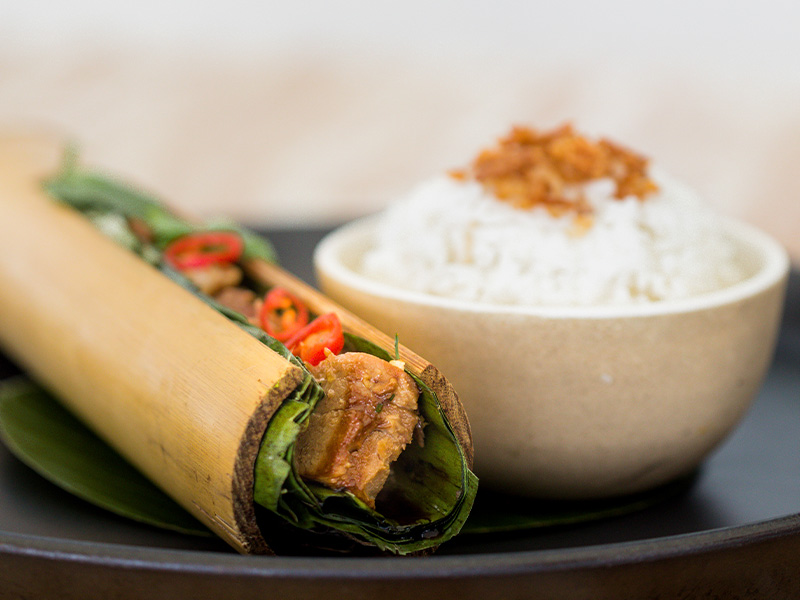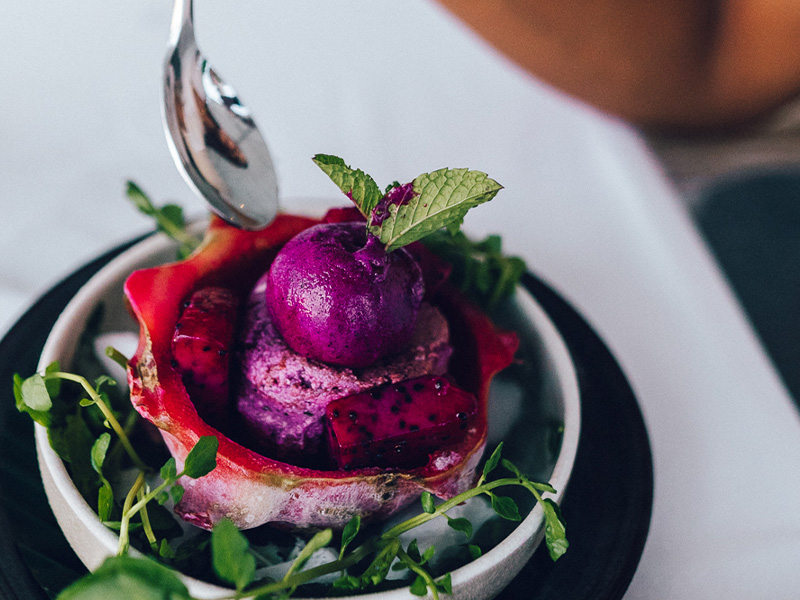 What are some of the food trends we will be seeing in 2021-2022?
With so much uncertainty of what the future is to bring, I think this also includes food trends. With that in mind, I'm seeing many fine restaurants using Wagyu Beef Cheeks as opposed to short ribs as an example. I think comfort and value for money is always a great back up plan- especially during uncertain times.

Culinary Inspirations?
Bobby Flay: Taught me food is like a colour wheel. If you mix four primary colours together you get brown aka bland. Too many flavors or textures on one plate, the palate gets lost. Be bold-be precise.

Jean George Vongerichten: undoubtedly the highest rated two Michelin stars, clean simple and elegant food. At the time nobody else was delivering globally on the scale Jean Georges was – and still is.

Anthony Bourdain- had the best job in the world and approached his show in a matter of fact way. True to the soul of a chef.
Finally, when you can travel again (sigh), where to next?
I can't wait to go skiing in Japan. However, until we can get back to some sort of normal travel without quarantines or running the risk of getting locked in or out, I plan to travel more within the country I call home: Indonesia.   I've been doing a lot of research on the various regional cuisines of Indonesia.  Partly to apply on the menu at Karma Beach but also to figure out where to travel to next!.  I'm looking forward to exploring Sumatra and Flores as well as Toraja on the island of Sulawesi.