It's one of the most iconic dishes in the world – known and loved everywhere – and also featuring its own twists depending on location. That's why we've launched a signature burger at our resorts across the globe – each distinctively Karma in flavour, yet each unique. The thinking here is to use the very best locally sourced ingredients to create burgers whose flavour and quality reflects the given destination. In doing so, we're supporting local businesses – from local butchers and bakers to farmers growing fresh produce and top quality livestock. It's an approach that means we know exactly where the ingredients in our burgers are coming from – and can attest to the quality of each one. And it means that our guests experience some of the very best burgers on the planet – from a Tuscan burger made with handmade milk bread, Chianina beef and egg cooked in tomato sauce, to our award-winning Evesham Longhorn Burger made with steak mince from grass fed cattle, Old Spot smoked bacon and Warwickshire Truckle cheese… to name just two of the juicy delights on offer.
Read on to discover the collection that's on offer at our European & UK resorts…
---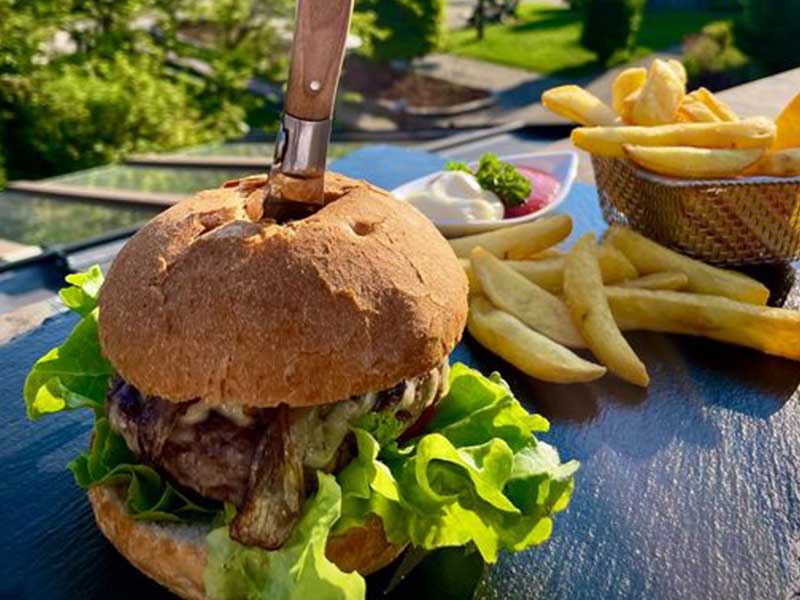 Karma Bavaria Burger: Schliersee
Hand-rolled brioche bun from the local bakery "Gritscher"
300 gr freshly grounded beef from the local butcher "Stadler"
Local bacon lard from "Speckalm" up in the mountains
Bavarian "Obazda"
Lettuce, tomato, braised onions
Steakhouse fries
Karma Minotaur Burger: Crete
Locally sourced bread
A slice of local Graviera cheese
250gr of lamb and pork patty with onion and rosemary
Braised onion
Fresh tomato and lettuce
Yoghurt sauce with herbs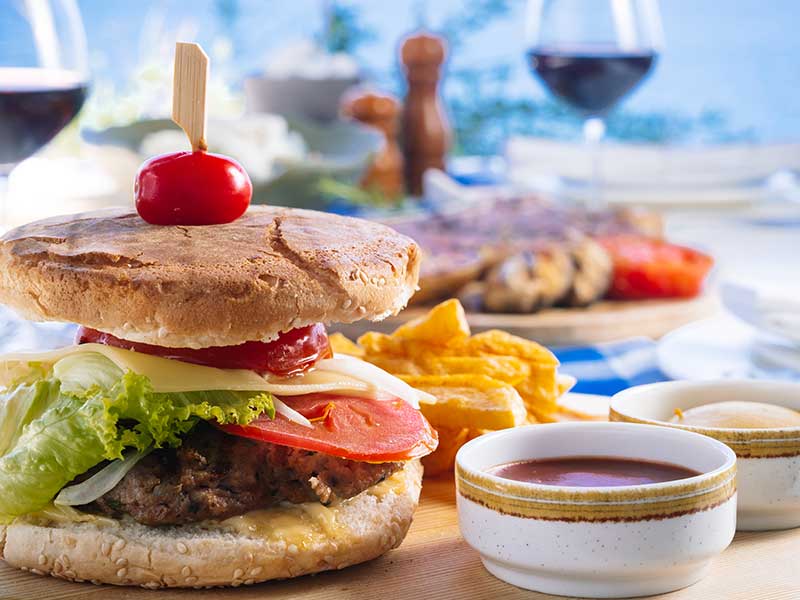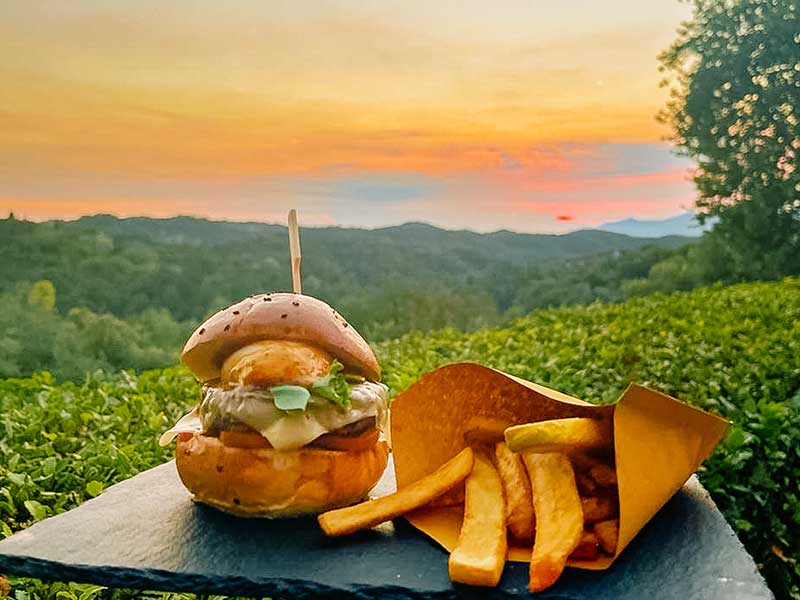 Karma Borgo Burger: Tuscany
Milk bread hand made by Borgo cooks
Egg cooked in tomato sauce
250 gr Chianina beef
Fresh tomato and lettuce
Parmesan fondue
Karma Menteith Burger – Scotland
Brioche bun
8oz patty of ground Aberdeen Angus beef
Chopped shallots
Flat cap mushroom stuffed with haggis
Crisp gem lettuce
Beefsteak tomato slice
Glazed melted Scottish mature Cheddar cheese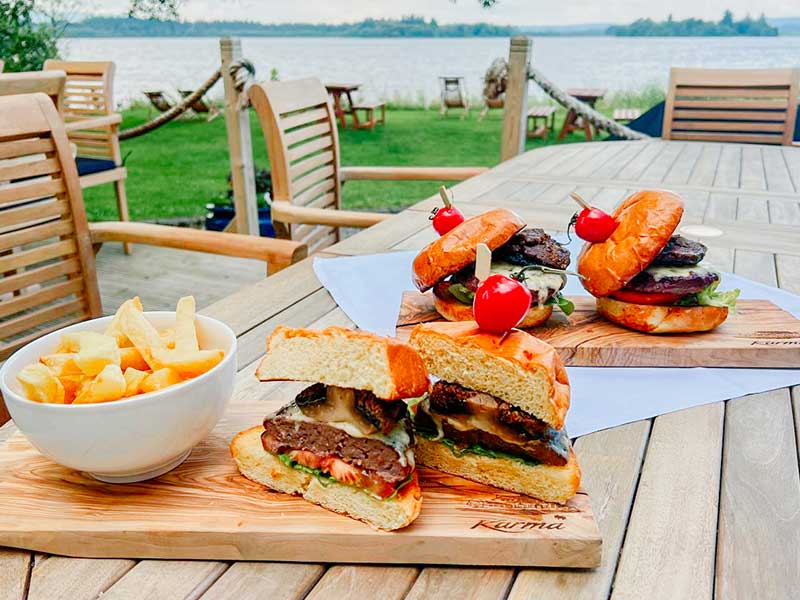 ---

Karma Longhorn Burger : Evesham
Martin's 6oz Longhorn burger patty -'Our 2016 3 Star Award winning burgers are made from steak mince cut from our own Longhorn grass fed cattle. As the oldest breed of cattle, Longhorns are not cross bred or intensively farmed and produce a finer grained muscle in the meat and an intense marbling of fat which creates a succulence and flavour that is second to none. This is enhanced by our unique Himalayan Salt Chamber, where the meat is dry aged for 28 days, drawing out the moisture and enhancing the flavour' – Martin Gilder from Toddington, Gloucestershireour, our preferred butcher here at KSH.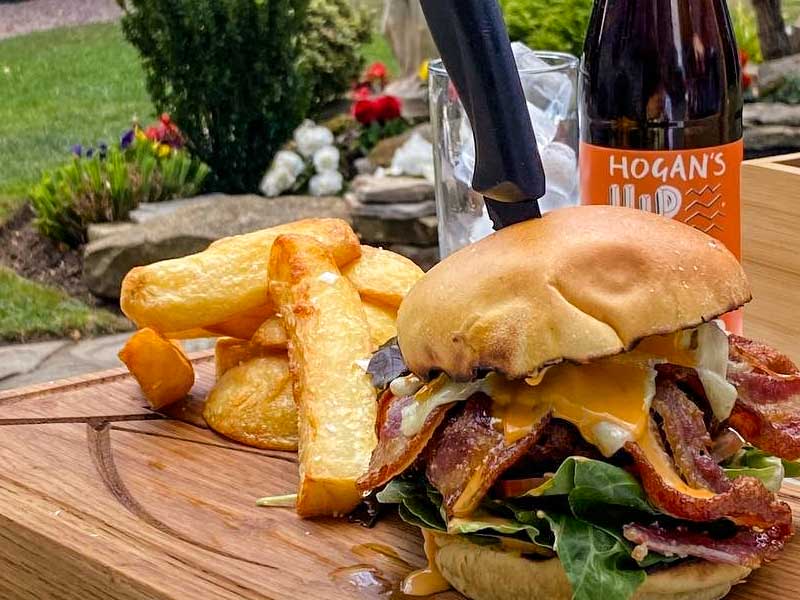 Old spot smoked bacon – Gold Award winning bacon in 'The Taste Of the West 2015'. Dry matured on the bone for 6 days in Himalayan Salt Chamber and hand dry cured with our own special blend of brown sugar and salt for 10 days.
All our pork is from the rare breeds of Gloucester Old Spot or Middle White pigs sourced from farms in the North Cotswolds. The pigs are able to roam freely in a stress free environment which produces a more flavoursome meat' from Martin's meats.
Brioche burger bun – Made by Andrew Davies bakery in Kenilworth, Warwickshire
Fowler's Warwickshire Truckle cheese – Oldest family of cheesemakers in England since 1670, from Earlswood, Warwickshire
Sliced tomatoes, lettuce – grown at Park Hall Produce by the Hollis family in Dunnington, Warwickshire.
Red onion marmalade – made in the kitchen here, with a couple of bottles of Karma Beaujolais
Burger sauce – This is a secret recipe, which could quite possibly have been stolen from McDonald's…. and made better by us.
Fat chips – Our triple cooked fat chips, using Maris Piper potatoes.
---

Karma St. Martin's : Isles of Scilly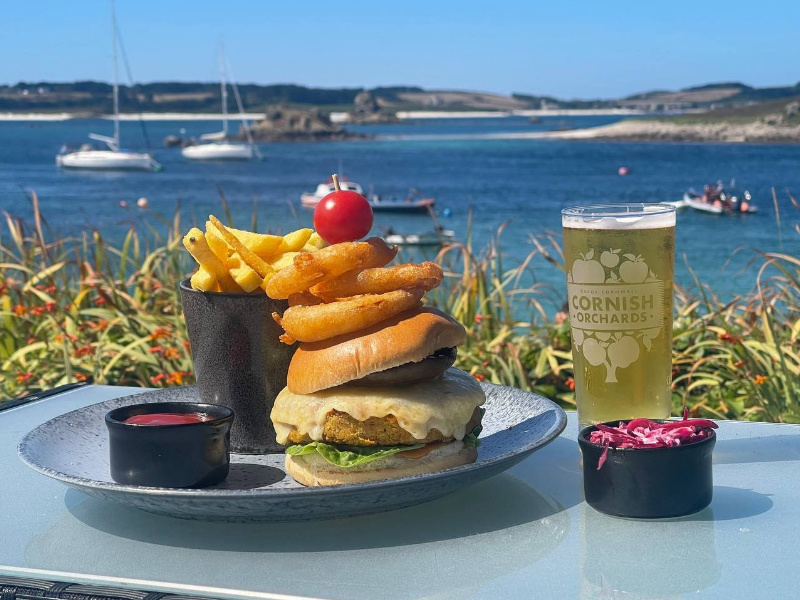 Chickpeas, Coriander & Chilli Vegan Burger
vegan smoked applewood cheese
vegan almond mayonnaise
ruby slow and triple-cooked chips
21 Days dry-aged Beef Burger
smoked applewood cheese
smoked bacon
toasted brioche bun
baby gem lettuce
tomato
ruby slow and triple-cooked chips
house relish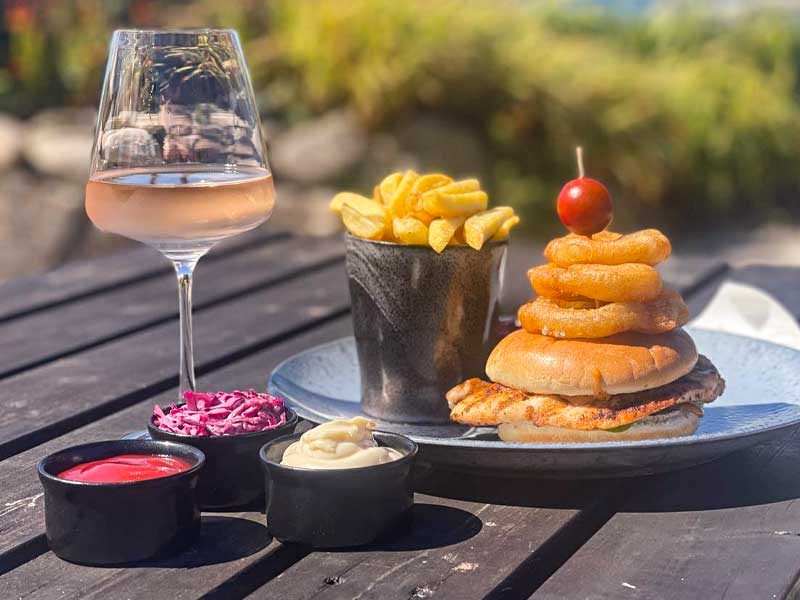 Char Grilled Cajun marinated Chicken Breast Burger
smoked cheese and bacon
barbeque sauce
toasted brioche bun
baby gem lettuce
tomato
ruby slow and triple-cooked chips