German-born Tina Kirschner, has been living and working in Bali since 2011. The manager of TK interior design and architecture firm, Tina designs and produces furniture for restaurants, hotels, and luxury yachts. Tina has been involved in several of the Karma Group projects including the luxe units for Karma Bavaria, apartments at Haathi Mahal, Goa and the recently reimagined Karma Beach Bali.
---
Where in the world are you right now?
I am 'stuck' in Germany due to Covid-19 but fortunate to be working on a big apartment project in the south of Munich as well as several other European based projects including a luxury residential villa in Ibiza.
How is design changing in the time of Covid-19?
I feel there is a big shift in the consciousness of how we live and also how we furnish our homes. There is a bigger focus on functionality as many people have been forced to work from home (WFH) and spend more time on their own. This way of work-life will continue as many companies are more open to the WFH concept for their employees. However, while functionality is required, creating a calming ambience that inspires us and makes us feel calm and relaxed is just as important. In my opinion, there's definitely a higher demand for creating a feeling of balance and harmony as a consequence of the Corona situation.
Do you have a signature style?
In general, I have always preferred a more minimalist and modern approach to my interior projects with calming natural colors. Recently I have been drawn to the influence of the Japanese Wabi Sabi style of finding the beauty in imperfection and living simply. It embraces authenticity and finds value in weathered and lived-in pieces. Originating in Japan in the 12th century, Wabi Sabi has been popularised globally through designers like Tatsuro Miki and Axel Vervoodt. It respects the craftsman with an appreciation for the beauty of simple, natural elements in interiors. Wabi Sabi style features modest materials and honest pieces made to last.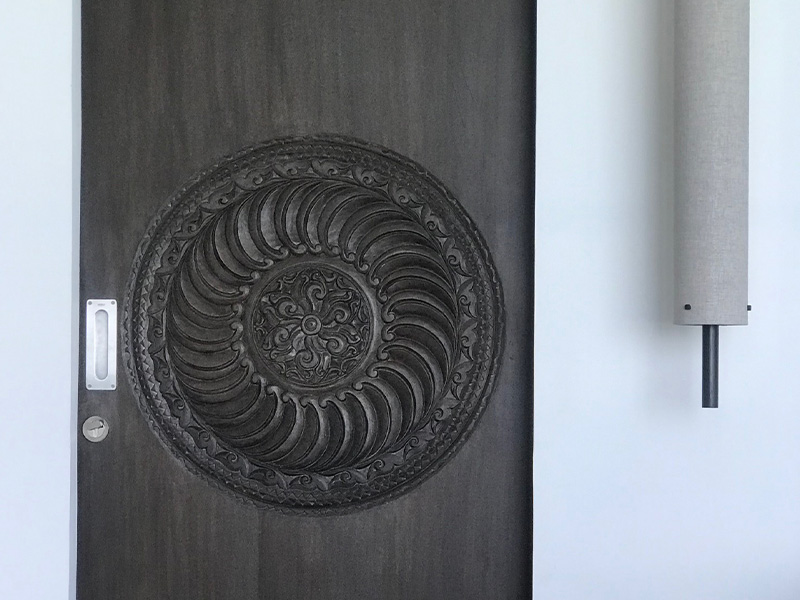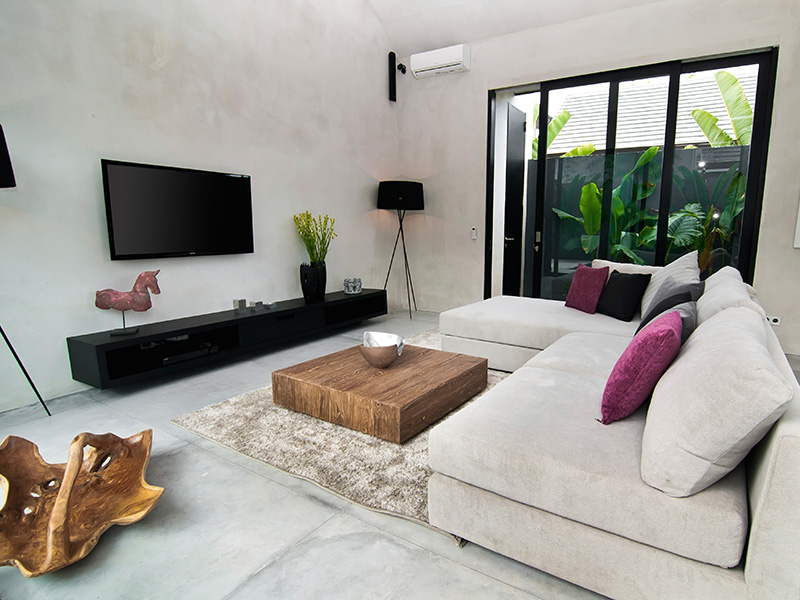 How do you tap into your creativity?
A big part for me is travelling and seeing new places but also constant research. Inspiration can come from small things I see in my day to day life such as colors in nature, visiting restaurants, design shops or just doing my daily Pinterest scrolling. I also like to attend the big design shows and fairs to check out international trends and what's new.
Natural colours or bright and bold?
While this depends on each project, I do prefer natural colors. Which is why in many projects I tend to use neutral tones for the bigger interior pieces with colours as accents, providing a more timeless feel. That said, some projects require bright and strong colours to add warmth and cheer. At Karma Royal Haathi Mahal in Goa for example, I definitely felt the need to go with some bold and bright colours reflecting the beautiful bright colours that to me are a symbol of India.
You've been designing for the Karma Group since 2011. What are some of your favourites?
I loved designing the 'modern mountain' themed furniture and interiors for Karma Bavaria in Germany, the revamping of the apartments at Haathi Mahal in Goa as well as the recent revamp of Karma Beach Bali that combines beach club culture with restaurants and luxury residential lifestyle. However, the new designs for the future villas that will be built at Karma Kandara are my favourite design project for the Karma Group. I am really looking forward to completing them once international travel recovers and the project continues.

You recently completed the show unit apartment for the next phase at Karma Kandara – can you share your design inspiration?
The theme for the latest Karma Kandara apartment project, for example, was tropical modern. It was therefore easy and fun to integrate local timber elements in modern shapes. I worked with a linear pattern in the wooden doors and TV wall which looks modern and trendy and then paired it with the current trend-color green, adding plants and local handicrafts. Tie-dyed linen curtains as well as other natural features such as the chairs with rattan elements round up the look and feel of that interior concept.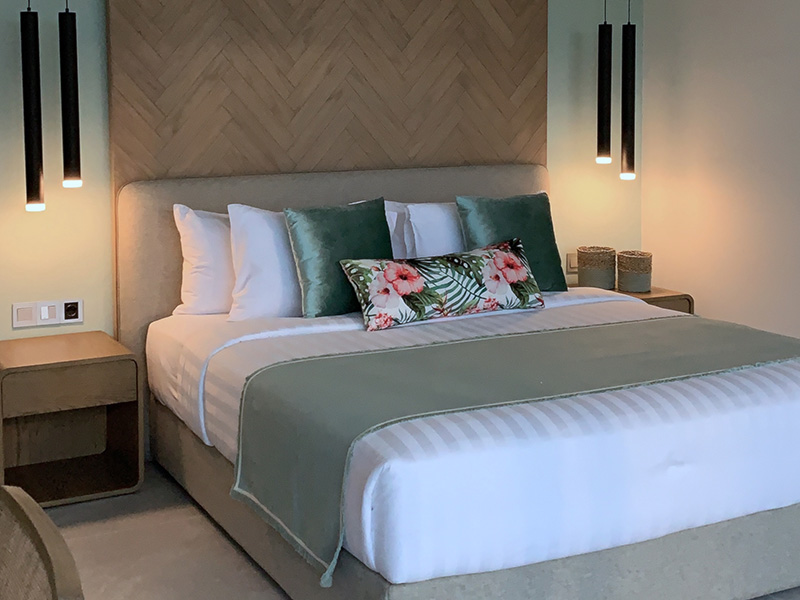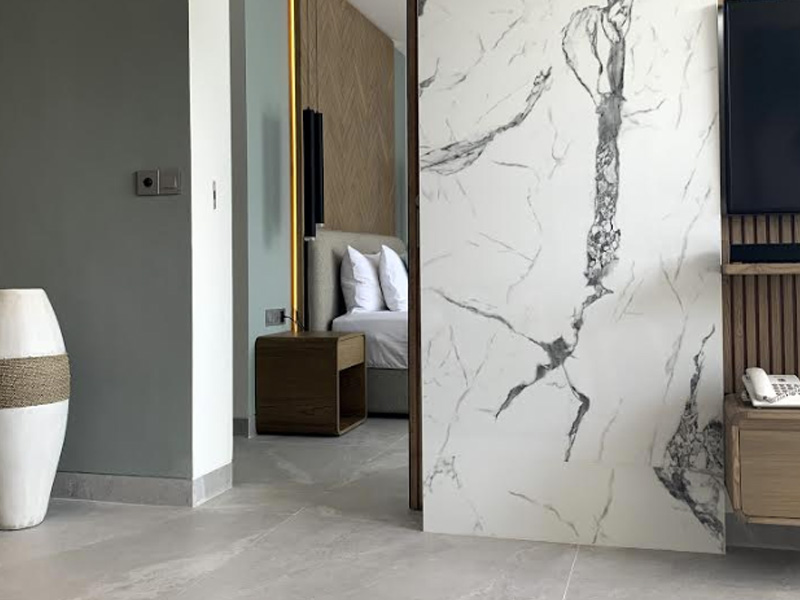 Any design mentors?
Kelly Wearstler is the most inspiring interior designer and furniture designer of our time – I love her use of forms and shapes. Ilse Crawford is another designer I look up to – the way she works with color and creates a classy yet modern look is still one of my favorite ways to work on many projects.

Tell us what you love about living in Bali?
I absolutely love the people and the culture. Bali and Indonesia are like a playground for an interior designer. Much of the furniture for the big companies around the world is produced in Indonesia. On a personal level, of course to me as a German it's nice to live in a tropical climate with the beach so close as well.
How do you like to holiday?
I love to travel and see new places. My favorite trip was the safari I did in Tanzania in Africa – watching those amazing animals is definitely something to put on your bucket list. As I am based in Indonesia, I also love to go on boat trips around Indonesian Islands such as Flores or the Gilis. I like diving and feel lucky to be able to live and work in Bali and have all this beauty so close by.
And finally, should we all be going GREEN and if so, how?

Turning to eco-friendly interior design is a smart and responsible thing to do because it is not only beneficial for you, but also for the environment. Absolutely sustainable design is the way forward and a big trend in 2020. Here are some tips on how this can be done :

• Introduce plants in your decor
• Integrate natural wooden pieces
• Let sunlight in as much as possible
• Use energy efficient lighting
• Try to use organic material such as silk, cotton, linen and wool
that will enhance the ambience of your home without compromising the visual unity of other natural elements. Warm colors, and indigenous plants as well as a lot of natural light are some of the things I definitely try to integrate in my current projects and I use more wooden items in a modern interpretation as well.