Take the cliff inclinator down to Karma Beach, cross a stretch of glistening golden sand lapped by Indian Ocean waves, head over to a broad wooden pavilion and you're likely to encounter a young man with a deep tan and an easy smile absorbed in applying paint to a surfboard. Unless that is, he's out riding the same surfboard on a nearby break…
This is Reif Myers – a free wheeling Australian artist (and surfer!) who's currently making his home in Uluwatu – Bali's Southern peninsula, with its legendary surf breaks, soaring limestone cliffs and of course award winning luxury villa resort, Karma Kandara. It's here that Reif has pitched up as our Artist In Residence – hence his regular appearances down at Karma Beach.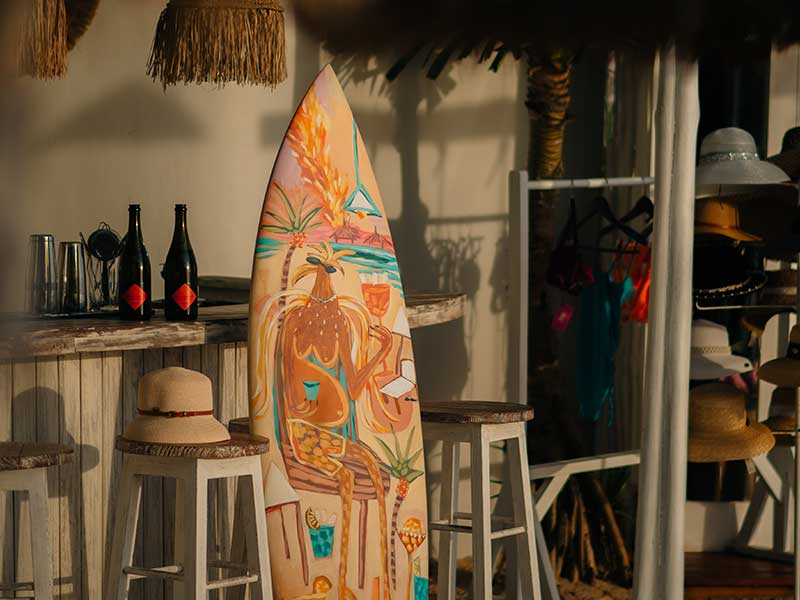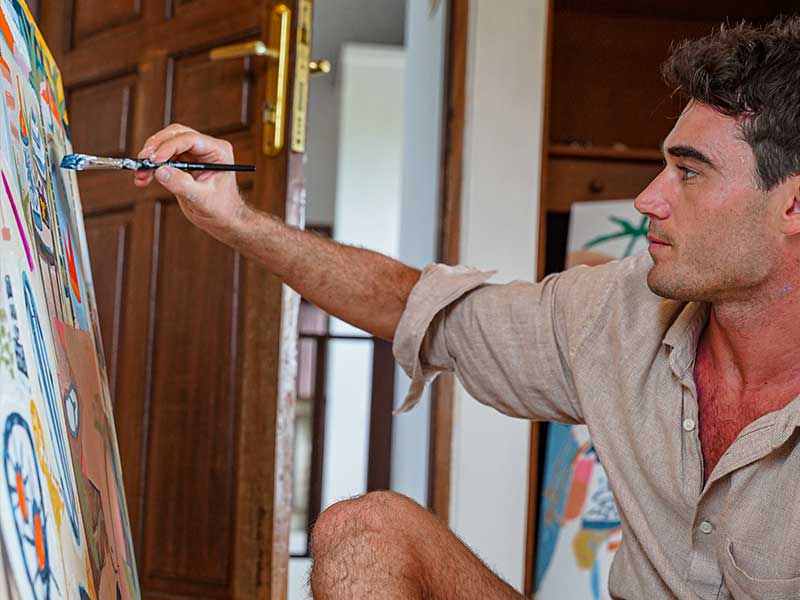 Reif grew up in Western Australia, so beaches, surfing and the ocean have been familiar friends since childhood. His passion for art was fostered during after-school art sessions in the studio of his mum Jos Myers – herself an established painter with a deep love of the ocean. And if he wasn't painting, he was surfing.
Reif's art is inspired by his surroundings – he used to fill the walls of his home with wild and colourful montages, a style that he's carried on to this day on canvases and surfboards – his collage style paintings jostle with cartoon like characters alongside Reif's signature seagulls, wine and beach umbrellas. They are slyly humorous, with animals employed to represent human characteristics.

During his time with us, Reif's also taken time to work with the children of Bali Life Foundation – a children's charity and orphanage that Karma has worked with for more than a decade – teaching two fun-filled workshops with plans to run many more at a brand new creative centre that's being purpose built by Karma Group at Bali Life Foundation.
You can check out more of Reif's art over at his virtual gallery – and if you're in Bali, be sure to drop by Karma Beach and say hello!