When designing the Karma Spa on Rottnest Island, the Karma Group's Spa Curator, Judy Chapman, searched far and wide for natural fragrances for the retail apothecary. It goes without saying, Judy was over the moon when she discovered Oneseedperfumes.com, a luxury Australian organic perfume brand with style. Here, Judy chats to its founder Liz Cook…
---
Firstly, where are you right now and how has lockdown been for you?
I'm in Adelaide in South Australia. We have been very fortunate here as we only had a few weeks of lockdown, and still had quite a bit of liberty. I spent most days exploring new walking trails with a friend and was able to catch up with friends. It was a springboard to improving my fitness and reevaluate myself, so lots of silver linings. However, COVID19 has proved a challenge to several aspects of the business – mainly in the areas of freight. Shipping goods both locally and internationally has been an exercise in patience for everyone involved!
How did you get into the world of organic perfume?
I've been passionate about beauty and wellness since my teens, probably partly because I was an unwell child and began looking for answers that doctors could not give to me. At 25 I opened my first of 3 natural beauty boutiques in Adelaide, and within that we were making personalised skincare and haircare blends for customers. Over a few years I honed my skills in blending and my understanding of natural extracts and perfumery deepened. I saw there was a gap in the market for a natural perfume – there was NOTHING out there at that time. In 2007 I sold my natural beauty boutique business, and continued to work on the perfume research and formulations. In 2009 ONE SEED was launched as Australia's first natural perfume brand – and one of only a handful in the world.

How do you create a beautiful scent?
The process of creating a new scent starts in one of 2 ways – either the name comes first (that's usually how it goes), or I am inspired by an experimental pairing of ingredients in the lab. However, I usually find my inspiration from life itself – human experiences and emotions – or quotes I read, so for me the process of starting a fragrance is an emotionally-driven one. Once I have a name, then I make notes about the emotion I want to convey from the fragrance. Next step, I write down a list of extracts that will convey those feelings, and I work out what would likely be the 1 or 2 hero ingredients. It's not until this point that I go to the lab and start experimenting. The whole process takes anywhere from 2-3 months and up to a year. It's not uncommon for a perfume to go through 15-20 trials and iterations before its starts to become what it was born to be. And from there it's a bit more refining and ageing before the final product emerges.
What are some things about scent we may not know about?
Our olfactory systems really drive us as humans. Our sense of smell is the first of our senses that develops in utero, so it is primal and instinctual. Smell is not just a sense in itself but it is physiologically linked to emotion and memory, so every time we smell something we love or hate or even are indifferent to, we are laying down new memories liked with that scent. That's why we all have those random experiences of being instantly transported back to a time or place when we suddenly smell something familiar. We may not even consciously recognise it, but our brains are able to flick through the file and pull out both the memory and feeling instantly. Natural scents are even more amazing as they have an effect on our brain chemistry, and can cause our bodies to release neurotransmitters that makes us feel good, relaxed and energised etc. Synthetic scent doesn't have that capacity.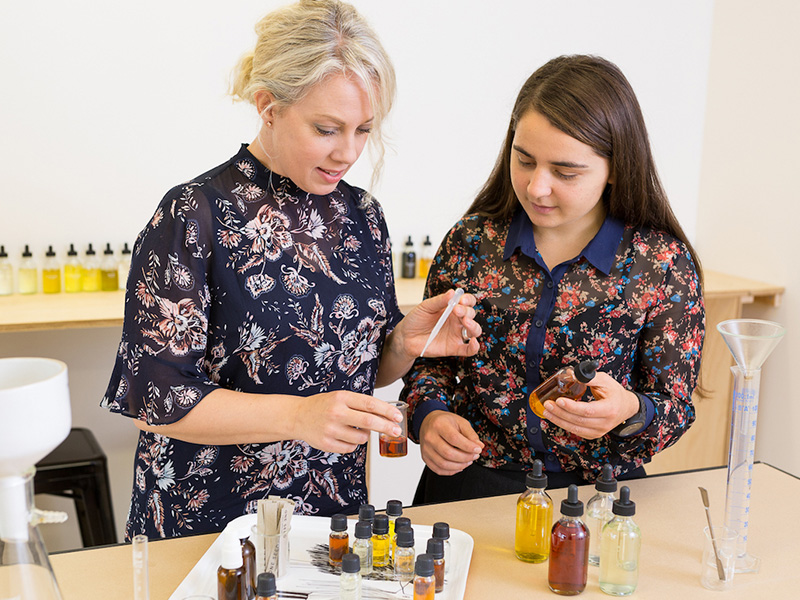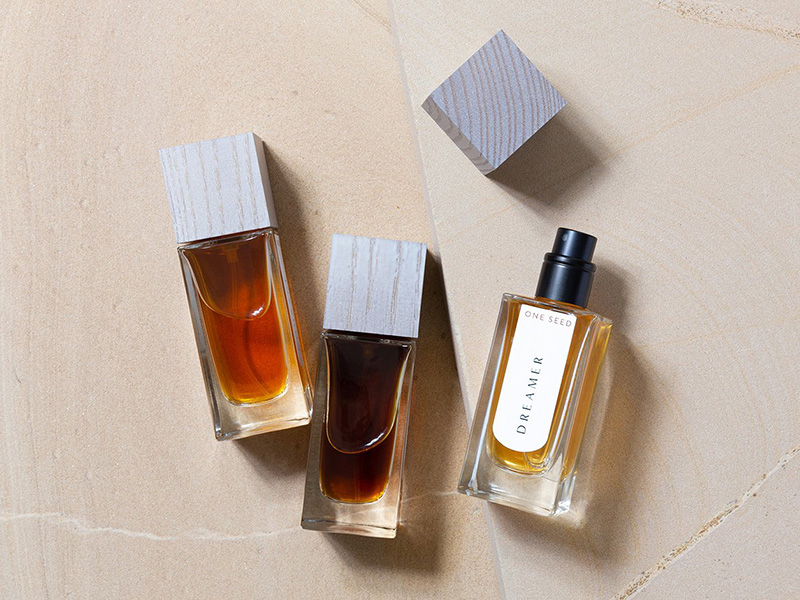 Why organic perfume?
I wouldn't be doing it any other way. Synthetic scent has so many toxic effects on our bodies, and has been strongly linked to many poor health states and symptoms from nausea and migraines, through to depression, anxiety and some cancers. The most pressing concern in my opinion is the link to endocrine disruption. The ingredients in synthetic scents have a very strong interaction with our hormones, and can cause the displacement of testosterone and an overabundance of estrogen, so it's critically important that we look at how pregnant and breastfeeding women, as well as teenagers, are exposed to synthetic scent. I do a lot of research in the area of mental health, and the links between synthetic fragrance ingredients and anxiety and depression are also very strong. I have a lot more information on these topics on the journal our website, and we also discuss these issues in our podcast, On.Conscious. I could literally talk for hours about this topic!
Tell us about your recent packaging overhaul
We are so thrilled with our new packaging – it feels like the brand is now really well-rounded and the new aesthetic reflects the scents and the ethos beautifully. We spent around nine months developing the new packaging with our designer and manufacturers, and launched it at the end of July this year. As with everything we do, we were very deliberate with the new packaging, and have used gorgeous Italian-made paper that includes 5% recycled cotton, and has a raft of environmental credentials. The new labels are made from paper that is made from spent grapes from the wine industry. And all of it is just visually beautiful and so lovely to touch and open.
We have also launched a new collection this year, Laundrette. It's our first foray into home fragrance. The products are 100% natural, fully transparent, and so gorgeous to use in your home and laundry, with scents that make you feel good about your home. It's been really well received and we can't wait to add more to that collection in 2021
Sounds amazing – thank you for your time Liz for your time (and exquisite perfumes).