Meet Maurizio Valentini, Exec Chef at Karma Borgo di Colleoli resort.
Growing up in Sicily, Maurizio discovered his passion for food at the age of six years old watching his grandmother rolling pasta dough. By the time he was 15, Maurizio was making his own sourdough! When asked about cooking he says: "Cooking for me isn't just an important activity, it is an activity which creates new energy in my life". We chat to Maurizio about his passion for reviving Italian classics, fermentation and the amazing art of moulding chocolate!
---
How has 2020 been for you? Any silver linings?
I used the time to deepen my studies in the world of 'chocolate' and fermentations. As a result, I am now a chocolate expert, and the fermenting world led me to a new degree.
The pandemic made us all appreciate traditional Italian cuisine even more. Over the last year, we spent a lot of time in the kitchen rediscovering the social aspect of the table with our life partner and family. Bread was a highlight in 2020 and has developed to being a dish on its own. Many of us also got organised to train and keep fit inside our homes. But we also realized that exercise is not enough and that a balanced and healthy diet is the way forward.
What's your favourite dish of the moment? Have you been experimenting with any new ingredients?
If we talk about pasta I love carbonara! If we talk about a main dish, I adore a juicy pigeon breast. If we talk about pastry, I love a souffle. I am introducing into the menu a combination of flavours that exude hints of umami, thanks to fermented ingredients.
Tell us more about your passion for chocolate sculptures!
In 2020, I was also teaching at the 'Culinary Cordon Bleu Academy' in Florence. I decided to introduce a well-known sculptor, Mitoraj to the students who were in their third academic year. Talking about an artist through flavors and textures is very difficult, but the personal development and the final result were very rewarding.
A journey through Italy which illustrates the art of sculpture.
Mitoraj and his sculptures in the Valley of Temples in Agrigento during the full blossom of almond Trees. " Cremino made with raw almond"
Pompei and the scent of its lemon trees. " The lemon supreme"
You can mould chocolate as you do with bronze. We are now back in Tuscany in Pietrasanta, a town where the sculptor developed his career. "Sculpture" and " a praline made with chestnut cake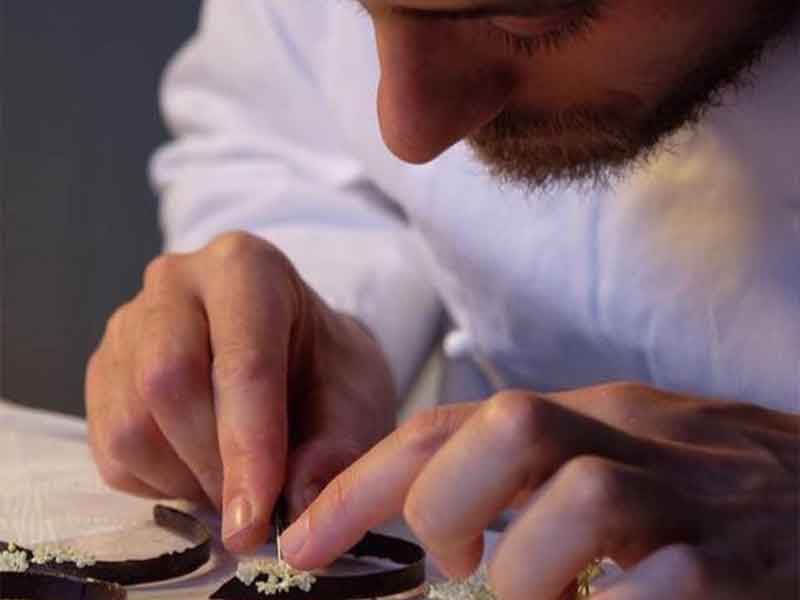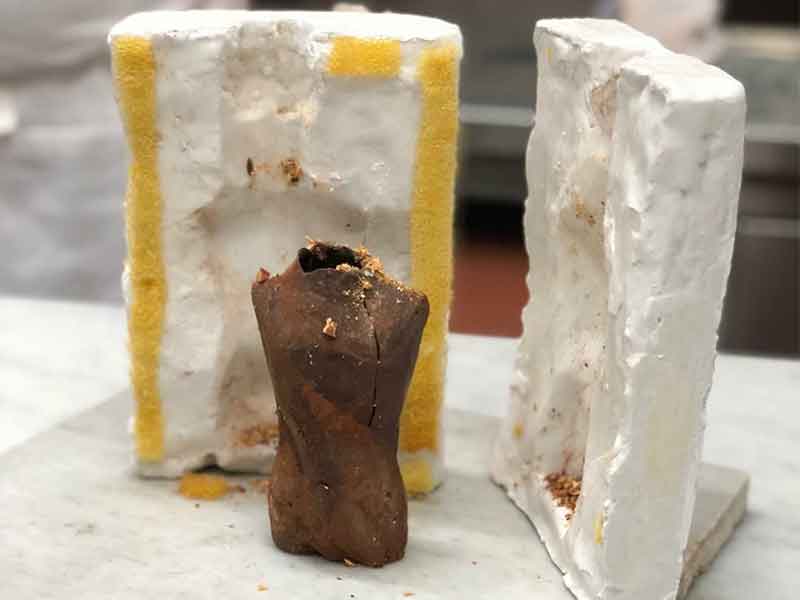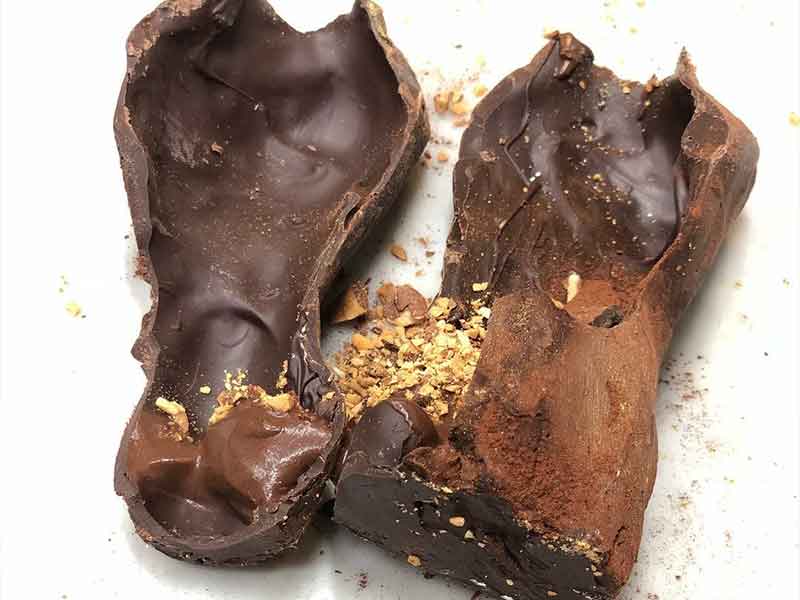 What do you think will be the top 3 food trends for 2021-2022?
Italian cuisine is so attached to tradition. My passion is to study the past and lighten traditional recipes with the introduction of new ingredients, as well as apply new cooking techniques that enhance an ingredient rather than conceal it.
What can we expect from our menus at our resort this year?
The village of Colleolli was a self-sufficient farm and I would like that our guests can breathe in this reality made of people, habits, noises and smells. The farmer who takes care of his land and is excited by pressing olives or grapes, the smell that comes from the ovens which are making bread in the morning – this is the feeling I hope to offer our guests in our dishes.

Our two restaurants inside Borgo di Colleoli are seasonal and during 2020, we worked on bringing different culinary options to the guests at Enoteca.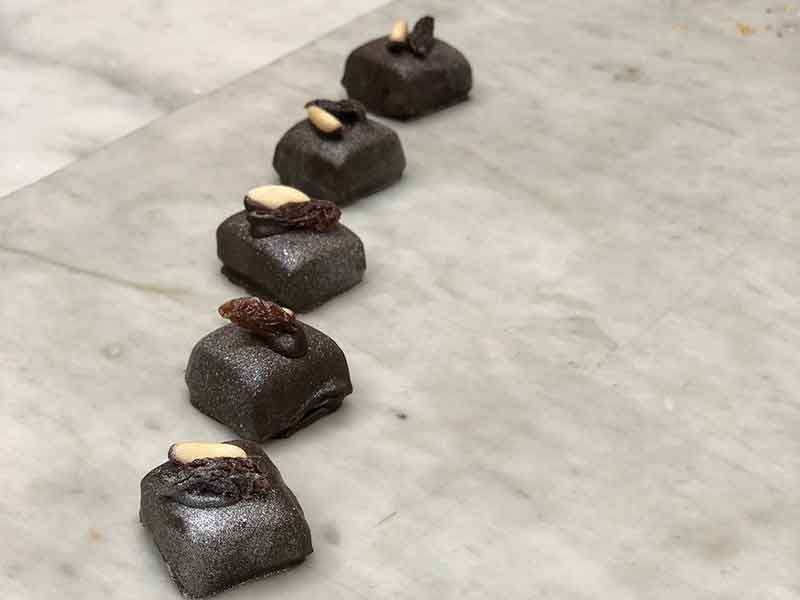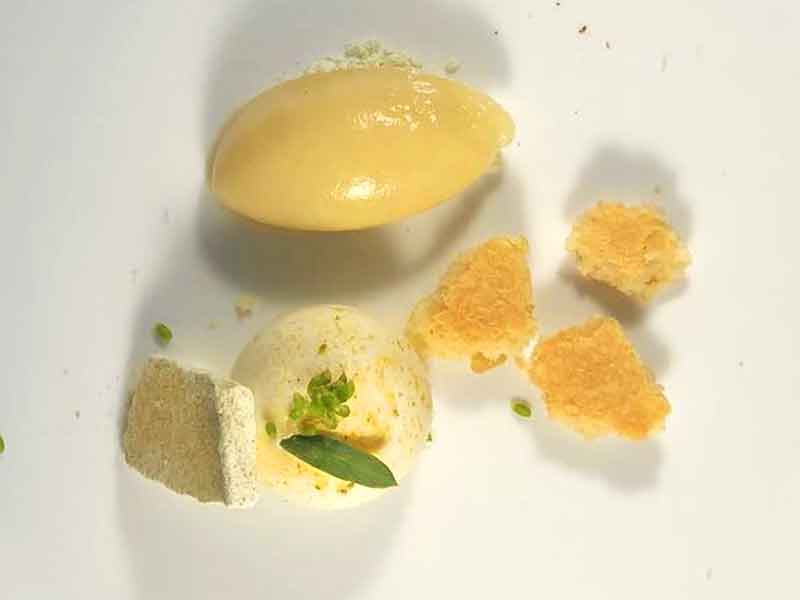 Sounds amazing Maurizio, thankyou!
Feeling inspired? Here's Maurizio' signature 'Risotto with Asparagus and Snails' recipe…
---
Risotto with asparagus and snails
The main ingredient of this season is wild asparagus, which, accompanied by snails, best express the smells and flavours of the woodland around the Borgo di Colleoli.