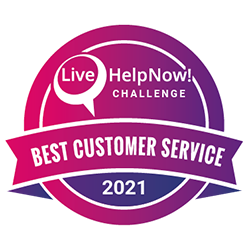 At Karma Group, we're always striving to provide our members with exceptional service – from the first touchpoint, through booking, holiday or leisure activities to post-vacation follow up. After all, an unforgettable destination experience should be supported by service that feels indulgent – yet effortless.  Of course, it takes effort – so it means the world to us when our member service teams are recognised for the work they put in. 
As such, we're happy to announce that in  2021, our team of hard-working Karma Odyssey Navigators made the 'LiveHelpNow Challenge' list of top companies providing exceptional customer service!
Out of no fewer than 10,000 companies considered in the challenge metrics, the teams in our head offices in both Bali and Goa came out on top.  This was thanks in part to the fact that our Karma Odyssey Navigators are so good at staying connected with our members and guests. The team almost doubled the number of incoming correspondences from Members in 2021, with around 130k incoming communications compared to a whopping 210k outgoing. 
We always remind our Members that we are here to be contacted  – ready to respond to any concerns, questions or comments – so it's heartening to know that the message is really getting through.  Our customer service team is always just a friendly phone call or email away. 
Below are a few comments from Karma Odyssey Member Feedback Forms in the answer to the question "How can we serve you better?" that gives a sense of how our Karma Odyssey Navigators have been doing:
"Everything was spot on."
"Just like this… quick reply and response with customer needs."
"We are more than happy with the Service we received. Thank you"
"Juni was excellent to correspond with. He did all that he promised in a prompt manner. it would be nice to deal with him on every occasion."
If you would like to submit your comments and suggestions as to how we can improve our Member services, simply submit your feedback using this link.